20 SMS Templates to Kickstart Your Text Marketing Strategy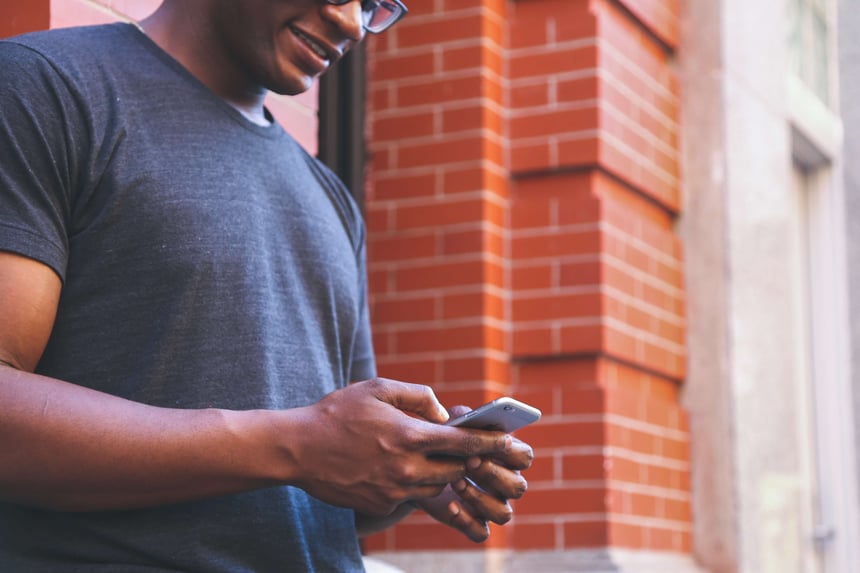 There's no need to reinvent the wheel when it comes to building out marketing messages for your texting strategy.
There are hundreds of templates available for everything from appointment reminders to delivery notifications. Today, we're offering up some templates that you can review for ideas or simply modify so they apply to your business.
A Few SMS Best Practices
Before we dive in, take a moment to read through a few text marketing tips to make sure you're sticking to text messaging rules and giving your business the best chance of success with your SMS campaign. For starters, here are a few:
If you expect a reply or allow the option to reply, be specific about how a customer should do so. (Example: Text "STOP" to unsubscribe or Text "Y" to confirm)
Sign off with your name, so your recipient knows exactly who sent the message
Provide recipients with the option to unsubscribe
Appointment Reminder Templates
Whether you run a healthcare office or salon, no-shows can hurt your business. An easy way to remind customers about their appointment is to send them a quick text message. Fewer than 5% of scheduled appointments get canceled after a customer receives a text reminder, so take a moment to adopt one of the following templates for your business.
"Hi, [name]. This is your reminder that your dental appointment is tomorrow at 1:30 p.m." - Sam's Dental
"Hi, [name]. Just reminding you about your scheduled tire rotation on Wednesday, October 3, at 2:00 p.m. Please use the link below if you need to reschedule: [link] or text CANCEL to cancel your appointment." - Jordan's Tire Depot
Hello [name], your appointment with Alice Jasper is today at 9:00 AM PST. If you have any questions, please call (949) 888-7777. Reply OPTOUT to opt-out of appointment reminder texts. - Alice's Clinic
Appointment Confirmation Templates
Appointment confirmation texts often serve double duty and work as a reminder text. However, some businesses prefer to send both.
"Hello [name]! We're looking forward to serving you at your upcoming salon appointment. As a reminder, here are your booking details: [location, date and time].
Please text Y to confirm your appointment, text N to cancel, or give us a call at [555.555.5555] to reschedule. - Lila's Salon
You're all set for your appointment at 9:15 AM, 02/18/2022! - Don's Hair Studio
Abandoned Cart Reminders
Sometimes, a customer needs a nudge to complete their purchase. An abandoned cart text can help you get the sale ahead of your competitor.
We saw you looking at these items! Check out now and take an additional 10% off your order with code SAVE10! [link] - [Store Name]
The world's best dress shirt belongs in your closet! Don't leave this popular item behind; check out before they're all gone!
- [Store Name]
Discount and Promo Text Templates
Customers love discount codes and often hunt down coupons before committing to their purchase. Simplify the hunt by incentivizing a purchase and sending promos directly to their phone.
[Store Name] Our bestsellers are back in stock!
Take 20% off sitewide, all weekend long!
Discount automatically applied; no code required.
[link]
This just in!
New Colors: Jade Green and Slate Blue
Use your early VIP access to score 20% off for the next 48 hours!
Just use code PLY32 at checkout.
[link]
- [Store Name]
[Store Name]: FREE delivery by Christmas if you place your order by 12/10. Let's get shopping! [link]
Event Reminder Templates
Like appointment reminders, event reminders help streamline a process that customers or event attendees need to complete before their appointment or event. They are a great way to speed up check-ins by reminding guests to bring necessary documents for mandatory health checks or reminding them to arrive early for bag X-rays or other security screenings.
Hello [name], this is Donna's Dental. Our records show you are due for a check-up appointment. Please reply to this message or call our office at (323) 123-7654 to make an appointment. Thank you!
Reply STOP to unsubscribe.
Hi [Name],
[Event Name] is 2 days away!
We'll have top artists around the country rocking the stage. Follow the link for event details and parking information: [link]
Please have proof of COVID vaccination or a negative test result ready at the door.
All bags are subject to inspection or X-ray prior to entry.
Order Confirmation Templates
Online orders, meetings, and appointments continue to be popular for customers and businesses alike. Here are a few different ways to write up a confirmation text.
Your order #452 from Sushi Bar will be ready for pick up in 35 minutes!
Apartment Self-Guided Tour Confirmation
Date:
Time:
To modify your appointment, please visit [link]
Please check-in using the QR code outside the community's leasing office when you arrive.
Reply STOP to opt-out.
[Store Name]: Order 69YHGREKDJ is confirmed! Get text updates for your order: [link] Message and data rates may apply.
Reply STOP to opt-out.
Order Ready Templates
After an order confirmation text, you should send a different message when the order is ready. If your customer must complete pickup within a specific time frame, be sure to include that in your text. You may also find it helpful to include details like order number and pickup location.
Pharmacy Rx: ORDER READY
[Name], Rx [Medicine Name] is filled and ready for pick-up at Pharmacy Rx in Tustin.
Ph: (555) 444-3333.
Amount Due is $40.99
Click on [link] for delivery and pickup options.
Please complete your pickup in the next 3 days.
Thank you for your purchase! Your order is ready for pickup at Sushi Bar - [address]. Please visit your order page for your pickup location, instructions, or to opt-out from SMS messages: [link]
Delivery and Pickup Notification Templates
Some businesses elect to send a follow-up message after an order has been delivered or picked up by the customer. This is an excellent opportunity to ask for feedback about the customer's experience or close out your communication about a specific order.
[Store Name] Order Status: Thanks for coming by! Your Store Pickup Order (#4679GFIWE7) has been picked up at the [location]. We hope you're happy with your order and your store pickup experience!
Your [Store Name] order has been delivered. View order details: [link]
Hi [name], your package has been delivered. To complete the delivery, please take 30 seconds to share your feedback [link] - [Store Name]
Ready to Start Text Message Marketing?
SMS marketing is an easy, cost-effective way to start building long-lasting relationships with your customers. For most businesses, the only hurdle is learning how to write SMS for marketing purposes. If you're ready to get started, Texting Base can help.
Sign up for a free trial with Texting Base to kickstart your SMS marketing plans.