22 Professional Merry Christmas Text Messages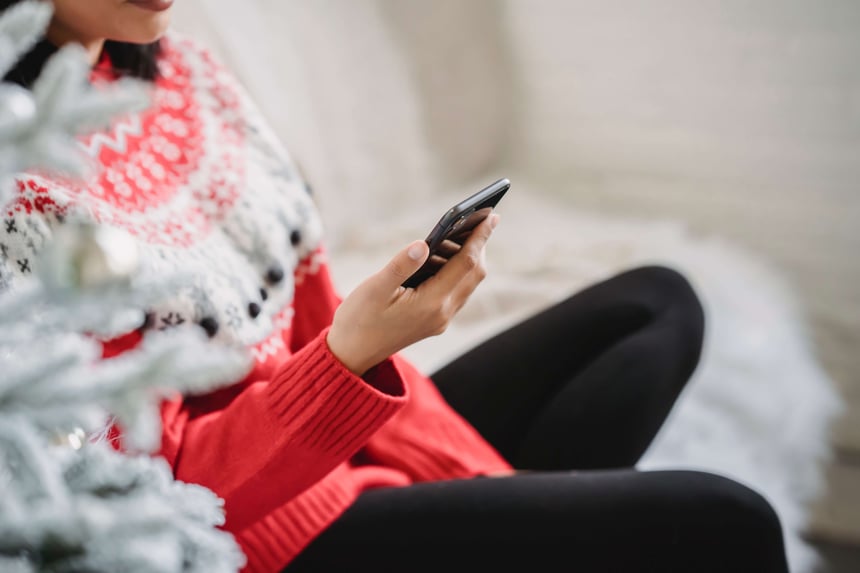 More than 90% of Americans celebrate Christmas. Regardless of race, religion and political affiliation, millions come together this wonderful time of year to spread joy and good cheer.
But with close to half the U.S. population regularly traveling for Christmas, how can you guarantee your festive message reaches its intended recipient?
With a Merry Christmas text message, of course.
So, save the trees and leave the Christmas cards on the shelf. When you're sending messages on behalf of a business, these 22 professional Merry Christmas texts will delight everyone in your network.
Heartfelt Christmas Texts
With a holiday full of festivities, family and friends, messages need to come from the heart. And you don't need promotions or marketing reasons to reach out to your customers—they'll appreciate your good tidings and simply being kept in your thoughts.
So, if you like your Christmas wishes on the slightly sappy side, these text templates are for you:
General Merry Christmas Text – "Merry Christmas to you and yours! Wishing you nothing but peace and joy this holiday season."
Christmas & New Year Combo Text – "Have a very merry Christmas and a Happy New Year! Enjoy every moment of this special time of year."
Appreciative Christmas Text – "Merry Christmas, [name]. You've given so much this year, and we can't thank you enough. We hope all your Christmas wishes come true."
Long Distance Christmas Text – "Even though we're not together during Christmas, we're never far if you need us. Have a relaxing and happy holiday with those around you. We look forward to seeing you in the New Year."
Family-to-Family Text – "From our family to yours: May this Christmas bring you love, laughter and joy. Cherish each moment with those you love—that's what this time of year is all about. With lots of love, the [Business Name] family."
Funny Christmas Texts
Nothing says Christmas like a great big belly laugh. Guarantee a smile on the other end of the phone with these side-splitting messages:
Close-to-Christmas Text – "Ho ho ho-ly smokes! Where does the time go? Christmas sure snuck up on us this year! But if you're more the last-minute type, bring your sleigh down to [Business Name/Location]!"
Naughty or Nice List Text – "Just caught a glimpse of Santa's naughty list, and I'm sorry to report you were on there. If you won't be satisfied with coal this year, check out our [Product]!"
Funny Family Gathering Text – "Uncles all worked up over the latest sports news? Is your grandmother telling you to settle down and find someone nice? During this year's Christmas dinner family argument, remember that you always have a place with ours! Stop by [Business Name] anytime!"
Post-Christmas Text – "Guess what, [name]? We actually put so much thought into our Christmas text that we had to send it late. So, here it is: Merry Christmas and Happy New Year! As a make-up gift, we'll also be extending our holiday sales until [Date]!"
Religious Christmas Texts
For many, Christmas Day represents the birth of Jesus of Nazareth. If you know your customers or employees embrace the holiday's faith-based origins, take inspiration from these spiritual texts:
General Religious Christmas Text – "May God bless you and your family this Christmas. Wishing you peace on Earth on this beautiful day."
Blessing Text – "Now and always, He has given us the greatest gift of all: Faith. Enjoy the warmth and glow of His light this Christmas. God bless you."
Thoughts & Prayers Text – "Sending prayers your way during this beautiful Christmas season. May you find the peace and love you so deserve."
Funny Religious Christmas Text – "There are so many reasons to love Jesus, but having another holiday to look forward to is one of my favorites. May your Christmas overflow with His abundant love."
Punny Religious Christmas Text – "At Christmas, His presence is the only present we need. I hope this Holy Season brings good luck and good health to you and yours."
Appreciation Christmas Texts
Christmas and the year's end are the perfect time to reflect on the last twelve months and give thanks to everyone who helped make it great. Let the people important to your business know you're thinking of them with these templates:
Employee Thank You Text – "Merry Christmas, [name]! As the New Year approaches, I can't thank you enough for all your hard work this year. Enjoy your Xmas vacation—we'll see you in 2023."
Colleague Thank You Text – "Like Santa's reindeer, we make a terrific team. Merry Christmas to you and your loved ones! May you experience the true joy of Christmas this year."
Customer Thank You Text – "Even though Thanksgiving has come and gone, we're still feeling grateful to have you as a customer. Have an amazing Christmas filled with family, food and fun."
Partner Thank You Text – "We're not sure we would've made it through the year without our partnership! Here's to a wonderful Christmas for the invaluable team at [Partner/Vendor Name] and more of the same in 2023!
Business Info Christmas Texts
Even though Christmas is a time of rest, relaxation and fun, business never takes a break. Whether you need to message your clients, employees or co-workers, these templates should help you strike the right note:
Christmas Sale Text – "'Tis the season to save big on everything in-store! Our gift to you this Christmas is something money can't buy: More money. Come in between now and December 24th and receive [amount] off all merchandise."
Post-Christmas Sale Text – "If there's one thing you can guarantee every year, it's Christmas. Come stock up on decorations for next year and save. We're blowing out all our leftover Christmas goodies while supplies last."
Customer Gift Text – "A very merry Christmas to you, [name]! To celebrate the happiest season of all, we're playing Santa this year and bringing you a present. Hop in the sleigh and head over before January 10th for your very own Christmas gift."
Business Hours Update Text – "Merry Christmas! In the spirit of the season, we're giving our staff the evenings to spend with their families. From December 15th to the 24th, the store will be closing at 5 PM. For our complete holiday hours, visit our website at [link]."
Spread the Christmas Cheer with Texting Base
Christmas can be a busy time of year, so we hope these holiday text templates help you strike at least one item from your Christmas to-do list.
Now that you have the right words, you need a simple way to send them to everyone in your network. If you already know you want to celebrate via SMS, why not make it as easy as possible with Texting Base?
Texting Base puts the joy back into mass texting. With simplified automation, two-way messaging, group texting and more, wishing a merry Christmas to all your professional contacts has never been more efficient.
Start your free trial today and discover the gift of effortless SMS marketing.
Need more holiday text inspiration? We have templates for Thanksgiving, Halloween, as well as inclusive happy holiday texts for your entire network. Happy holidays!
Sources:
Gallup. What Percentage of Americans Celebrate Christmas? https://news.gallup.com/poll/272357/percentage-americans-celebrate-christmas.aspx
Travel and Leisure. How Many Americans Are Traveling This Holiday Season — and How Much They're Spending. https://www.travelandleisure.com/holiday-travel-preview-2022-report-pwc-6746930