20 Inclusive and Professional Holiday Messages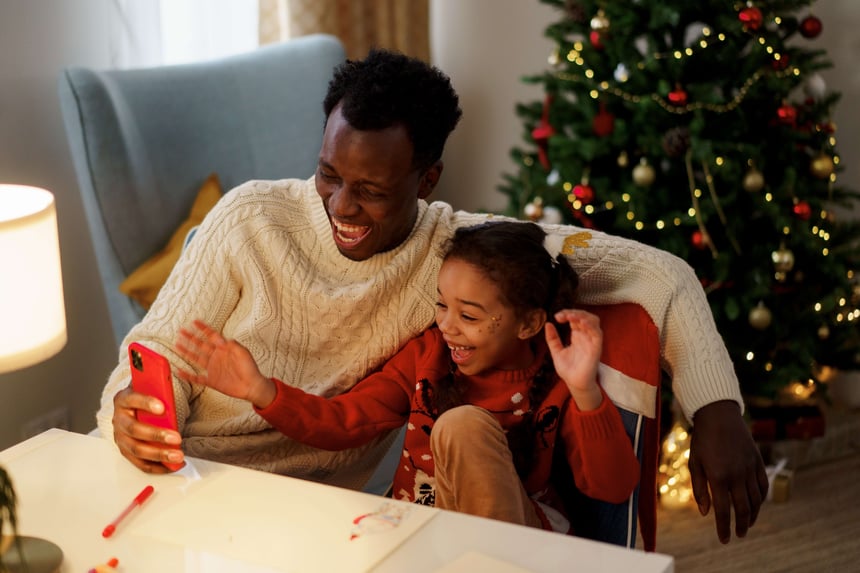 As the end of the year draws closer, our collective mood inevitably becomes more festive.
Maybe it's because so many cultures celebrate a holiday during the Northern Hemisphere's winter months. Christmas is December 25th; Kwanzaa occurs just after; Hanukkah takes place between late November and early January.
Although more than 90% of Americans celebrate Christmas, it's far from the only festivity during this time of year. Each of the mentioned celebrations—and the many others—deserve to be commemorated and respected. They also offer a chance to communicate your values to your clients and colleagues. How can you do that? Through a professional happy holidays message.
In this short guide, we're looking at 20 different ways you can celebrate with your entire network—without excluding anyone. No matter which holiday you observe, you can copy these free-to-use templates or use them as inspiration for your next text campaign.
Messages for the Whole Company
Your staff, co-workers and bosses work hard all year—why not show them some love this holiday season? These templates should help you put everyone in a celebratory mood:
General Holiday Greeting Template – "Dear [name]. May your holidays be full of good company, good food and good times. Wishing you and your family all the best."
Message from the CEO Template – "On behalf of the leadership team here at [company name], I want to wish you and yours a wonderful holiday season. We're lucky to have you on board. Have a safe and restful break."
End-of-Year Gratitude Template – "As the New Year approaches, we hope you take a quick minute to reflect on all your achievements this year. Thanks for everything you do for our people and our customers. Enjoy this time of rest and relaxation—you've earned it. We'll see you in 2023!"
Holiday Rush Acknowledgement Template – "Hey! We know it's been a crazy few weeks, so we just wanted to say thanks for everything. Your hustle and determination hasn't gone unnoticed. Kudos to the whole team for making this holiday season one of the best yet!"
Day Off Announcement Template – "Happy holidays, [name]. In honor of all your hard work, we're excited to announce that December 22nd will be a company-wide holiday. We hope you take advantage of this time to spend it with the people you love most. Have a lovely holiday and a Happy New Year."
Messages for Your Colleagues
Don't forget about the vendors, suppliers and B2B clients that support your business. Here are some short business holiday card messages for your colleagues:
Seasonal Gratitude Template – "The holidays have us in a celebratory mood, and we have to come out and say it: Now—and always—we're so thankful for the work you do. From your friends at [company name], we hope you enjoy this special time of year."
New Year's Celebration Template – "Another year down—and we couldn't have made it as successful as it was without you! Cheers to another trip around the sun. We wish you a joyful holiday season and a Happy New Year."
General Holiday Message Template – "Season's greetings, [name]. I hope your holidays bring you as much joy as you bring to our working relationship. All the best, [your name]."
Contractor or Vendor Discount Template – "This holiday season, the best gift has been your contribution to our success. We want to return the favor—which is why we're offering all our partners 20% off a holiday order. Use the promo code HOLIDAY20 at checkout to redeem."
Messages for Your Customers
Your customers are the bread and butter of your business. Show them you care (and keep them updated with your offerings and schedule changes) with these happy holidays messages.
Greetings
Start off the season with some simple well-wishes for your customers. Quick engagements like these are simple to execute, keep your business top-of-mind (especially as customers are beginning to think of gifts), and show them that not every message needs to focus on sales:
Personal Holiday Greeting Template – "Hello, [name]. It's the most wonderful time of the year, and I'm so happy to have shared part of my year with you. May your holidays be merry and bright! I can't wait to reconnect with you in the New Year."
Friendly Holiday Greeting Template – "Wishing you the happiest of holidays, [name]! From the entire staff here at [company name], we wish you and your loved ones a terrific season filled with love and laughter."
Professional Holiday Greeting Template – "To our valued customer: May the holidays fill you with peace, joy and love. Take care."
Customer Gratitude Template – "This time of year brings out the gratitude in all of us, so we just wanted to say thanks for your trust and continued support. Have a lovely holiday season, [name]."
Sales & Promos
Holidays sales and promotions often make up some of the most important revenue drivers for many businesses. So, you'll want to ensure that customers know yours. Try announcing them via SMS with these templates:
Holiday Discount Template – "No matter how, what or when you celebrate, come celebrate with us! Today through December 31st, we're offering 15% off of all services to help you kickstart your holiday season. Schedule your appointment today by responding with BOOKING."
Holiday Sale Template – "Season's greetings to you, [name]. We know funds can be tight this time of year. That's why we're introducing our biggest sale ever. With deals on most of our best-selling products, we're sure there's something for everyone's wish list! Come visit us in-store or shop online at [link]."
Customer Gift Template – "'Tis the season of giving, and we're celebrating with a FREE offer for all our amazing clients. Come in before January 10th with this message, and we'll hook you up with your holiday gift. No purchase necessary."
Post-Holiday Blowout Template – "Hey, [name]. The holidays may be over now, but it's never too early to prepare for next year. We're having a blowout sale on our last holiday items to make room for new stock. Come pick up your festive supplies and SAVE BIG!"
Business Hours Updates
Inclement weather, employee availability, general holiday craziness and more can all affect your business' schedule this time of year. But brands can lose customer loyalty or disappoint first-time buyers if they show up to a locked brick-and-mortar location. Update your customers with your holiday operating hours to maintain a strong customer experience year-round.
Closure Template: "Happy holidays, [name]! From December 23rd to 26th, we're kicking back with a cup of cocoa and our extended family and friends—we hope you get the chance to do the same. We'll be back in business on December 27th. See you then!"
Updated Hours Template: "To give our staff more time to spend with their families, we're adjusting our hours for the holidays. From December 6th to January 8th, our updated schedule is as follows: 10 AM–4 PM Monday–Friday; 10 AM–2 PM Saturday–Sunday; Closed Christmas Day. Click here to learn more: [link]"
Last-Minute Closure Template (Weather): "Hi [name]. Due to harsh weather, we'll be closing the shop today. We apologize for any inconvenience this may cause, and we look forward to seeing you soon. For any questions, give us a call at 1-888-123-4567. Stay safe out there!"
Spread the Holiday Cheer with Texting Base
The holiday season is a time for everyone to feel happy, safe and welcome. With a bit of care and finesse, it's easy to optimize your text campaign and ensure your holiday text blast includes everyone, regardless of their culture, background or faith.
Whether you need to send a quick thanks to employees or ahare an exciting offer with all your customers, you can do it in just a few clicks with Texting Base. With features like automation to help you send texts at the best time and two-way texting to encourage dialogue, Texting Base makes communicating during the holidays (and the rest of the year) a breeze.
Start your free trial today, and celebrate all holidays with your entire network through the medium they already use—texting.
Looking for more holiday text messages? Check out our fun and spooky Halloween templates!