11 SMS Templates to Promote Your Loyalty Program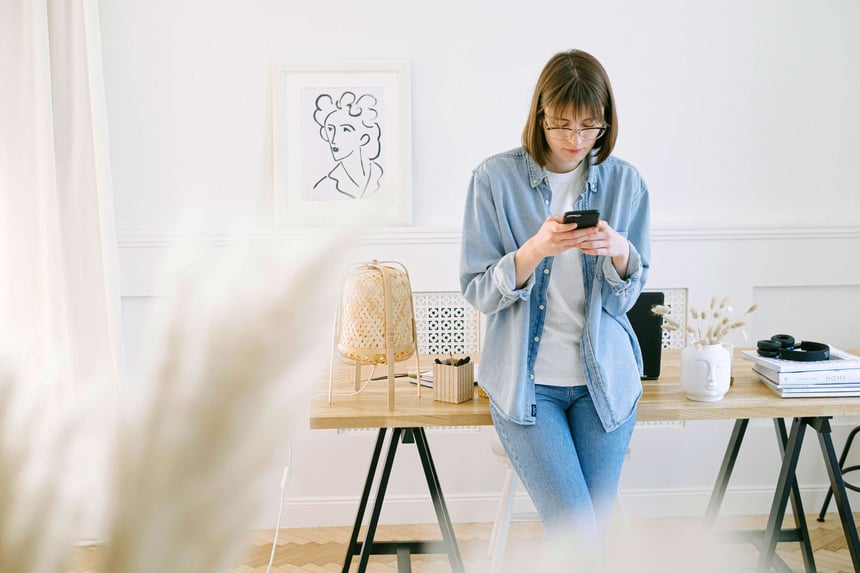 Loyalty programs are a win-win for customers and businesses.
For customers, they offer opportunities to save money and access exclusive products. For brands, loyalty programs help draw shoppers in; 78% of consumers are more inclined to shop with a brand when they have a loyalty program.
With SMS loyalty programs, customers can benefit from rewards and discounts while also enjoying the convenience and familiarity of texting. 85% of smartphone owners already prefer texting to calls or email, so switching to a text message loyalty program is a no-brainer.
In this quick guide to SMS loyalty programs, we're providing tips, tricks and templates to help you drive customer engagement and earn more.
Table of Contents
Loyalty Programs: The Basics
In a nutshell, a loyalty program is a marketing strategy that allows businesses to thank customers for their continued support. Some loyalty programs reward purchases with redeemable points, while others provide members exclusive discounts, promotions or other perks like all-expense-paid experiences.
If you're a business owner, you probably know that return customers spend more than new ones—67% more, to be exact. This statistic explains how loyalty programs benefit your business; even if your profit margins on loyalty sales are smaller, you'll generally earn more overall from their continued business. In other words, the lifelong relationship is worth more than the cost of free shipping now and then.
How Loyalty Programs Work via SMS
In the past, loyalty schemes relied on physical cards. Whenever customers shopped at a retail location or online, they would provide their card number and receive their perks.
Today, plastic loyalty cards are out, and no-fuss SMS programs are in. And with a text message marketing platform, setting up an all-digital SMS loyalty program is effortless. Here's a step-by-step rundown of how it works:
Step 1

– Interested customers sign up for your loyalty program by entering their phone number online, scanning a QR code or providing their information to a retail employee.

Step 2

– You use your SMS platform to send reminders, updates and links to deals to every member of your loyalty program audience.

Step 3

– Customers follow the steps in the messages to reap the rewards of membership.
In no time, you gain a direct line to customers who genuinely like engaging with your brand. Best of all, there's minimal set-up time and almost no maintenance.
11 Loyalty Text Message Templates
If there's one part of a loyalty text message program that can be challenging for some businesses, it's choosing what to say. That's why we've compiled this list of sample messages for each part of the customer journey. Feel free to copy these templates word for word or use them to inspire your branded messaging.
Welcome Templates
From the get-go, a successful loyalty campaign draws new members in and ignites excitement. These sign-up templates show customers you appreciate their interest in your loyalty program:
New Customer Sign-up

– Welcome to the [brand name] family, [customer name]! This feels like the beginning of something special. Text YES to confirm sign-up for our loyalty program or STOP to opt out of future messages.

Existing Customer Sign-up

– Everything is better as a member. We're so glad to see you join our loyalty program, [name]. To continue, reply with LOYALTY; otherwise, text BYE to opt out.

Introductory Offer

– We told you membership would be sweet, and we weren't kidding. Your loyalty rewards start TODAY. Enjoy 15% off your first purchase with the promo code NEWMEMBER.
Promotion Templates
Consumers sign up for loyalty programs because they want the perks. These templates will help you spread the word about your loyalty benefits:
Bonus Points

– This weekend, Members receive 3x the rewards points! Shop online or in-store, present your phone number and watch your points balance soar.

Exclusive Discount

– FOR VIPS ONLY. Today, members receive an exclusive deal on all sale items. Follow this link to claim your discount code: [link].

Exclusive Product Access

– Hey, [name]. We thought we'd give you the first crack at our new merch. Just another benefit of being a [brand name] member! Shop here: [link].

Free Shipping

– You deserve everything on your wishlist—and you deserve it now. That's why members get free express shipping this month. Log in to claim your offer.
Reminder and Update Templates
Not every loyalty program text message needs to be a promotional offer. Sometimes, even an update will encourage members to shop with you. Here are some ideas:
Point Balance Update

– Hi, [name]. You currently have a balance of [number of points]. Remember, you can use your points for discounts, free shipping, and so much more. See all the benefits of your rewards here: [link].

Point Expiry Warning

– Heads up! Your membership points are expiring in 30 days. Make sure you use 'em before you lose 'em!

Loyalty Status Change

– Welcome to the VIP club, [name]. With your most recent purchase, you've just reached Gold status. From now on, you'll receive free shipping on all orders and 10% off purchases over $100. It feels good to be rewarded, doesn't it? Well, you've earned it!

Benefits Reminder

– Hey, [name]! Long time no see. Don't forget about the perks of being a [brand name] customer. As a Diamond member, you have access to exclusive deals, early releases and free stuff. Ready to see what's new?
SMS Loyalty Program Tips and Best Practices
Loyalty programs can be a boon for businesses—but only if you execute them properly. As you roll out your program, keep these recommendations in mind:
Give your rewards program a catchy name

– Naming your loyalty program makes it easier for employees and customers to talk about it.

Save time with auto-responses

– Your loyal customers will undoubtedly have questions about your offers. Setting up

auto response texts

allows you to

improve customer service

by responding to members as soon as possible.

Be sure to follow all TCPA requirements

– You may have noticed that our sign-up templates include opt-in and opt-out language. The Telephone Consumer Protection Act (TCPA) requires you to let customers

opt in and out of receiving text messages

. Don't forget to add these disclaimers when you first make contact.
Increase Customer Loyalty with Texting Base
By now, the benefits of having an SMS loyalty program should be clear. Using a familiar format to communicate special perks to members only makes your customers feel even more valued.
If you're ready to dive into text-based loyalty programs, try Texting Base. With simplified two-way SMS and no limit to the number of contacts you can have, you'll be able to grow your rewards program in no time.
And loyalty messaging is only one aspect of SMS marketing. Features like text message scheduling, picture messaging and built-in link shrinking make anything possible via SMS messaging.
Start building your loyal fanbase today with a free trial!
Sources:
Forbes. The Perks Of A Great Loyalty Program. https://www.forbes.com/sites/jiawertz/2021/09/26/the-perks-of-a-great-loyalty-program/
PC Mag. Businesses, Take Note: Your Customers Prefer Texts. https://www.pcmag.com/news/businesses-take-note-your-customers-prefer-texts
Business.com. Returning Customers Spend 67% More Than New Customers – Keep Your Customers Coming Back with a Recurring Revenue Sales Model. https://www.business.com/articles/returning-customers-spend-67-more-than-new-customers-keep-your-customers-coming-back-with-a-recurring-revenue-sales-model/