5 Ways SMS Auto Replies Benefit Your Business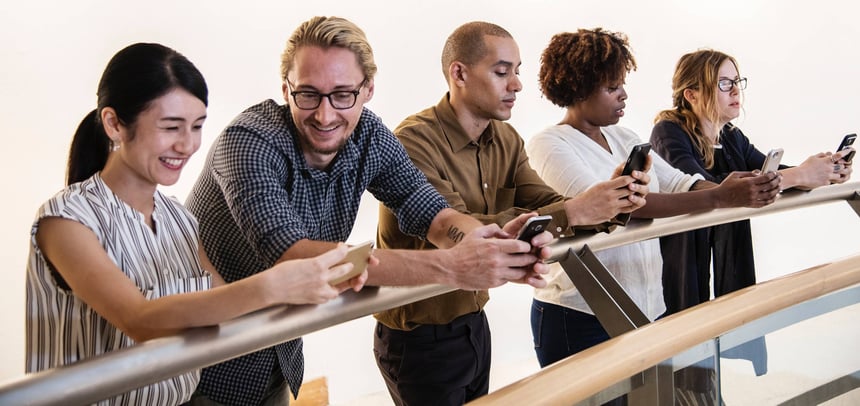 Businesses are adopting SMS autoresponders as a way to connect more frequently and meaningfully with their customers.
Whether you own a restaurant, fitness center, or your own business, customers won't wait for a response forever. The instant-gratification culture we have come to expect necessitates that businesses innovate frequently just to keep up.
Fortunately, autoresponders aren't a new technology, but they are an increasingly popular tool in the text marketing arena.
As the name implies, an SMS autoresponder sends a predetermined message to your customers in response to their text. For businesses, this is an opportunity to get creative and demonstrate to their customer base that they really are listening.
Here are five ways SMS autoresponders can benefit your business along with tips about important features the service should carry.
1) Personalize the Opt-in Process with SMS Auto-Reply
Using keywords like "JOIN" or "SIGN UP" is an easy way for customers to opt-in to your SMS messaging list. With an autoresponder, your customer will receive a unique message from your business, instantly! This acts as a confirmation message and as a personalized welcome at the same time.
This initial message is the foundation of your relationship with your clients, and with SMS boasting a 98% open rate, the marketing potential it carries is nothing to scoff at.
Tip: Choose an autoresponder that blocks the same response from going out twice. This helps you avoid redundant messages that detract from the experience.
2) Respond Immediately to Customers' Requests
Enabling autoresponders allows your businesses to appear ready to help at a moment's notice! This sets an expectation that your customers can text your business for anything - and that you'll write back with the answer as soon as possible. So, when it comes to making a purchase, signing up for SMS alerts or any other interaction, they'll expect an automated text message to deliver their requested information.
The key to successfully anticipating the types of requests you'll receive is in the product or service you provide and in knowing your customers' frequently asked questions. Take the time to build an extensive list of keywords that trigger an auto-reply and you can significantly improve the quality of your answers.
Tip: Choose a platform that offers unlimited keywords that aren't case sensitive. This will broaden the scope and relevance of your responses.
3) Amplify Your Existing Marketing Activities
By integrating an SMS autoresponder with your other marketing initiatives – including email, Facebook or Twitter – you make it easy for new subscribers to join the conversation.
For example, a clothing retailer might run an SMS auto-responder campaign encouraging people to text "COTTON" to receive special offers. Ideally, new and existing customers will follow separate drip campaigns so the incoming messages are more personalized to their unique place in the buyer journey.
Tip: A good autoresponder can move people into different groups and drip campaigns based on their responses.
4) Improve Customer Engagement
The average American checks their mobile phone up to 63 times every day – that's a lot of potential engagement! SMS response chains are a clever way to keep the conversation going without the manual work.
Some response chains offer a delay option that sends the auto-reply within a 30-second cycle. Some businesses prefer this to instant replies because it feels more natural and mimics a true text message conversation. If needed, a person can always take over the automation and continue the conversation in real-time. This is similar to the way many customer service chatbots operate, only the platform is on mobile.
Tip: In addition to plain text, a good autoresponder text feels natural and can display emojis, pictures and videos.
5) Improve Your Brand Reputation
SMS messaging campaigns give you a lot of instant feedback that you can use to your advantage. You can make immediate changes and tweaks, and monitor what works – and what doesn't – across the entire customer journey.
For example, a customer might text the word "STOCK" to gauge whether the item they are looking for is currently available. Then, an SMS autoresponder could automatically send them a text saying: "Hi, stock is currently low on this item. You can find it here: (link). If you have any further questions please reply HELP."
This type of SMS campaign allows your business to communicate proactively and improve its reputation for high-quality customer service.
Tip: Choose a service that automatically captures spelling mistakes so the inputs you receive aren't lost in translation.
Closing Thoughts
Automatic SMS messages can act as 24/7 salespeople for your business – providing useful, how-to information that your customers want when they need it most. They're also a great way to boost engagement and provide support without the expense of hiring extra staff.
Since SMS campaigns can be easily automated, you will have more free time to focus on important tasks that only you can perform for your business.
Learn more about how your industry can work with Texting Base to grow your database, control your sales process and automate personalized communication with your customers.