7 Benefits of Using QR Codes in Your SMS Strategy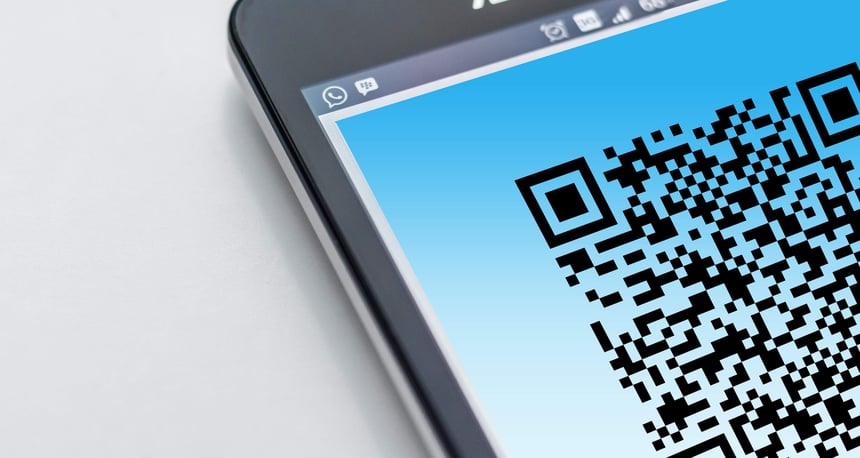 Over the past few years, you have probably seen and used QR (Quick Response) codes in various ways.
Whether it was looking up the menu at your favorite restaurant, scanning the QR code to pay for an item or inputting a second password for multifactor authentication, there are now countless applications for these unique digital codes.
For businesses looking to enhance their SMS marketing strategy, QR codes are the perfect tool. Used properly, these cryptographic codes make it fast and easy to provide vital information to consumers, foster interaction and engagement and promote your services.
But what are the specific benefits of using QR codes in your SMS strategy? We'll discuss seven below.
#1: Limitless Utilizations
One of the most significant QR code marketing benefits is that there are countless ways you can incorporate them into your business's digital marketing strategy.
Want to build your text marketing list?
A QR code can help you gain opt-ins and contact information.
Looking to direct customers to a landing page or your social media pages?
Add a QR code to your business cards and messaging materials.
Thinking about rewarding loyal clients with a personalized offer?
You guessed it—send them

a text

with a discount or exclusive access QR code they can scan before making an in-store purchase.
The only limit to a QR's potential SMS usage is your imagination.
#2: Troves of Information in One Small Package
One of the most advantageous elements of this digital technology is that it allows you to cram loads of information—up to 3 KB of data—into a single QR code.
Because they can carry hundreds of times more encrypted characters, QR codes have effectively replaced traditional (not to mention one-dimensional) barcodes.
Black and white QR codes are made of rows and columns, making them two-dimensional. This format enables them to contain significantly more raw data in the same amount of space.
Depending on your marketing campaign, a QR code could contain a:
Hyperlink
Text
SMS message
Email
Contact entry
Calendar entry
Telephone number
#3: Expanding Your SMS Audience
Savvy brands can also use QR codes to grow their subscriber lists.
In the past, most consumers would sign up for an SMS marketing list by texting the SMS keyword to a short code. But now, you can skip that step. By sending your target audience a QR code with a pre-populated opt-in message, you speed up the entire process.
#4: Data Analysis and Tracking
What type of messaging are consumers responding to? Why are they taking a certain action? How quickly do they act? And what percentage of them are doing so?
To run a successful campaign, you must be able to answer questions like these.
While you may have a general idea of your brand's overall performance and the effectiveness of its SMS strategy, you need to drill down into the numbers to know for sure. Dynamic QR codes help you analyze consumer behavior, making it possible to track essential metrics, such as:
The time of the scan
The GPS location of the scan
The type of device used to scan the QR code
The number of QR scans
Frequency of scans
The number of unique visitors
Traffic numbers
Operating a business without data is like trying to pilot a ship blindly. You may reach your final destination, but the voyage won't be easy. However, equipped with QR code analytics, you have the tools and insights you need to make the optimal course corrections for your SMS strategy.
Read more: Text Message Analytics for Beginners
#5: Multimedia Content Applications
SMS campaigns tend to be text-heavy. But QR codes make it possible to infuse your messages with multimedia content like a YouTube promo.
As previously mentioned, QR codes can contain large amounts of data. This makes them an ideal vehicle for brands that want to incorporate multimedia in their MMS marketing strategy.
You can link an existing video, or you could use a multimedia QR code generator to upload unique content, such as:
Video (MP4, OGV, OGG)
Audio (MP3)
Image (JPG, PNG, GIF)
Document (PDF, DOC, DOCX, XLS, XLSX, PPT, PPTX)
#6: Ease of Use
Even though QR codes may feel like advanced technology, a major part of their appeal is that they can be used by anyone. Today, there are dozens of QR code generators you can choose from—including specialized tools that let you create dynamic or branded QR codes.
#7: Convenience for Customers
In our digital society, practically everyone has a smartphone. And those mobile phones come with built-in QR code scanners.
QR codes are a unique type of technology. They make the consumer's life easier without actually having to adopt the technology or implement any significant behavioral changes. And, as QR codes become even more popular, the learning curve (if there was one) will only flatten further.
One of the reasons why QR codes have grown so popular is that they're convenient. There's no need to type something in or search for a brand's website. Instead, simply scanning the code allows a consumer to instantly arrive at your desired page.
For SMS marketers, that's a priceless feature. Every step you can take to streamline the consumer journey will be a net benefit to your brand.
Implementing QR Codes for Marketing
While there are myriad benefits of QR codes within the overall framework of an SMS marketing strategy, their ultimate purpose is to serve as a call to action. By strategically including these quick response codes in your messaging, you encourage existing and potential customers to act—to go to your website, sign up for an SMS list or shop in your store.
But what if you need assistance as you build a comprehensive texting strategy?
Texting Base can help you instantly connect with your target audience via SMS and MMS text messaging. Our automated, user-friendly platform empowers organizations across all industries to establish and foster genuine relationships with customers through simple integrations, personalized communications and multimedia applications.
If you want to learn more about incorporating QR codes in your SMS strategy, you can start your text messaging services today for free.
Sources:
QR Code. How Much Data Can A QR Code Store? http://qrcode.meetheed.com/question7.php