7 Ways Automated Text Marketing Connects You With Clients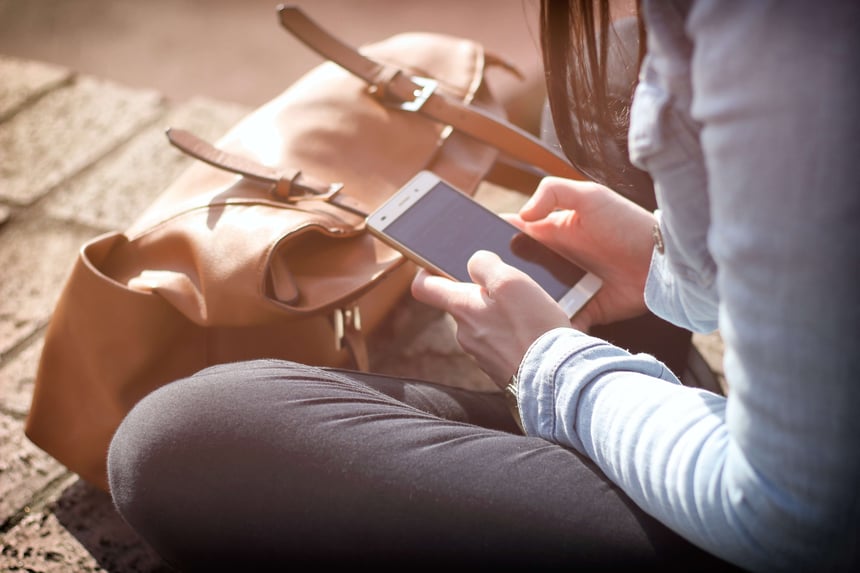 It's not hard to see why text messaging has become a popular form of marketing for many businesses.
Customers already use text messaging as a core communication channel for connecting with family and friends, and they're on their phones more than ever. Why not use such a familiar channel for your marketing, especially when it gives you the chance to personify your brand with customers and allow them to build a relationship with you?
Text message marketing — which includes both Short Message Service (SMS) and Multimedia Message Service (MMS) marketing — goes much further than simple appointment reminders and coupon codes.
Text message marketing puts the power in your hands to start and continue an ongoing cadence of meaningful dialogue with your customers through automation.
Find out how to use automated text marketing to reach your customers and increase sales.
What is Automated Text Marketing?
Automated texting is a way to arrange text messages to automatically go out to your contacts at a pre-set day and time. Let's talk about why businesses automate their text message marketing and its benefits.
Why Businesses Automate
Businesses choose to use text message automation for several reasons. First, it allows them to connect with their customers where they are — on their phones.
Automation allows companies to do that without having to manually send texts every time, making the process much more scalable while still maintaining that sense of rapport.
The Benefits of Text Automation
Automated text marketing is beneficial for a number of reasons. Outside of the obvious perks — like time savings and scalability for your firm — automated text marketing also allows you to streamline your communications strategy so that no customer ever falls through the cracks again.
For example, maybe a customer has visited your hair salon once but hasn't yet returned. You can automate reminders to the customer to schedule their next appointment or offer them discounts on follow-up services.
Without automation, customers can get unintentionally overlooked. Often, they just need a little nudge to book their next appointment.
How Do Automated Text Messages Work?
There are several ways to send automated messages. Some are based on customer behavior, while others are strictly based on timing. You must use the right type for your business based on your industry and specific marketing goals.
Here are some different ways to automate your text marketing process:
1. Automate your workflow
A workflow is a process of separate tasks that build upon one another. For instance, getting in your car, filling it with gas, driving on the freeway, and arriving at your destination could be a workflow for a road trip. Each step is incremental and triggers the next.
Automated text message workflows function the same way. You program your text message marketing system to launch an initial task, which, once completed, then triggers the others.
So, when might this automation process be most beneficial? One example is basing workflows on your customers' behavior.
For instance, maybe they clicked on your link to download a coupon code for their next appointment. That click on the link could trigger a reminder in your system for an associate to check whether the person scheduled the appointment or if they require additional follow-up.
2. Build an SMS drip campaign
Drip campaigns allow you to send messages based on time, not customer behavior. This is a good strategy for often-repeated processes in your business — think product refills or dog grooming appointments.
For example, if your salon sells shampoo, and each bottle lasts about two months, you might send your customers a reminder text to order more about a month and a half after their first purchase.
If you own a dog grooming salon or veterinarian office, you could send messages a couple of weeks before the dog's next trim or checkup.
3. Enable autoresponders
Autoresponders are automated replies people get when they text a designated response. This automation process is most beneficial when you typically have similar types of conversations with customers to accomplish an often-repeated task.
For instance, scheduling or changing an appointment would be a good time for autoresponders. Maybe you send a customer an appointment confirmation text with a "Yes, Cancel, or Change" option a few days ahead of their appointment.
If they say "Yes," you can provide an autoresponse welcoming them. If they say "Cancel," you can provide follow-up information for rebooking, as well as any cancellation policy reminders. If they say "Change," you can direct them to a link that allows them to move their appointment to another day.
4. Schedule text messages
There is tremendous value in sending texts at a time that is most convenient for your customers. That might mean you send them immediately after a customer interaction, at a specified time in the future, or on a recurring basis (like every month).
For instance, appointment reminders are great to send 24 hours in advance — and can drastically improve the rate of your customers showing up for their appointments.
Event reminders work the same way. You never know if your customer added your event or appointment to their calendar, so it never hurts to send them a timely reminder.
A more immediate example is asking the customer to take a feedback survey right after leaving your business. That way, you can catch them while their experience is still top-of-mind.
5. Enable abandoned cart reminders
Many e-commerce companies will tell you that abandoned carts are a significant obstacle; in fact, nearly 80% of online shopping carts are abandoned. It's possible the customer is still considering the purchase and needs a reminder, or they might just need an extra nudge to complete the purchase. Automating abandoned cart follow-up is a highly effective way to address the problem.
6. Distribute and collect surveys
As noted above, automated texts are crucial for gathering valuable input. The key is to send the text requesting feedback immediately after the customer's experience with your business, so you catch them while they're still thinking about your business and willing to take the time to respond.
When compared to email surveys, SMS surveys are the clear winners with a 7.5 times higher response rate than email, an average 90-second reply time, and a 98% open rate.
7. Send automated discounts and loyalty rewards
Finally, automated text messages are perfect for sending automatic discounts — think birthday or holiday offers. While building rapport with customers, these offers also encourage spontaneous purchases. This is an effective tactic for retargeting customers who haven't been to your store or site in a while.
Reach Your Customers with Texting Base
If you've been on the fence about sending automated text messages, just look at all the ways they can be effective in re-engaging MIA (missing-in-action) customers, converting abandoned carts, and building customer relationships through timely discounts and offers.
With automated text messaging, you can reach your customers exactly when and where they need to hear your message, making their lives easier (e.g., appointment reminders) while also increasing your bottom line.
If you're ready to implement automated text marketing, Texting Base can help. They've worked with industries like yours and can help you strategically and technically execute your automated text marketing campaign. Sign up for your free trial here!