SMS Marketing - Benefits and Best Practices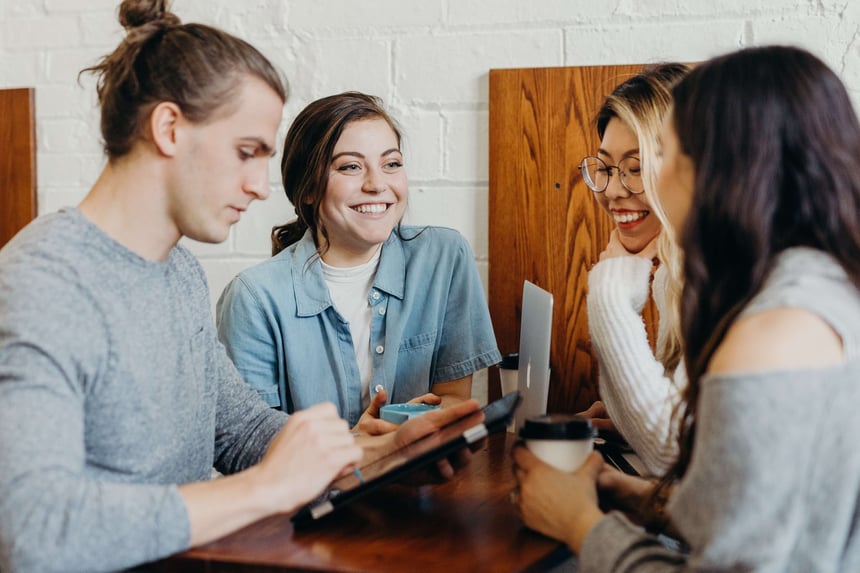 While email and search display marketing have long been the darlings of marketers in nearly every industry, Short Message Service (SMS) marketing is quickly making a name for itself on the marketing scene.
SMS marketing's whopping 98% open rate leaves comparable email and paid-search open rates (20% and 2%, respectively) in the dust.
SMS marketing is a quickly growing business, one that companies of all sizes and industries should consider. Although SMS marketing has become a more common tool as technology has advanced, many marketers still fail to follow SMS marketing best practices — which can be risky for their businesses from a compliance as well as from a strategy standpoint. Below, we will discuss the benefits of SMS marketing and which best practices to follow to ensure a successful campaign.
What Is SMS Marketing?
Companies in virtually every industry now use SMS marketing. The way they employ this tool varies by industry type and purpose, but there is an option for everyone!
For instance, service industries — from dental offices to hair salons — utilize SMS to help customers and patients easily set, schedule, reschedule, and cancel appointments. They may also send follow-up texts to ask for a customer's experience rating, offer friend and family referral codes, and send coupons or discounts for future services.
Companies that are more product- than service-focused can also benefit from SMS marketing. For example, consider a clothing boutique or pet store. These types of businesses also leverage SMS marketing to send out discount and referral codes, as well as notices of sales and other promotions. Their subscribers feel very "VIP" receiving such offers, especially if the messaging is personalized and the code is limited to subscribers.
In this way, brands can build rapport and relationships with customers while still targeting them with messaging that immediately drives sales and improves their bottom line. It's a win-win for brands and customers alike.
Advantages of Integrating SMS Marketing
SMS marketing is only as powerful as the marketing team wielding it. As such, SMS marketing should be appropriately integrated into an overall marketing strategy. In a time when customers view brands almost as people or entities themselves, it's critical that your SMS marketing brand voice matches the voice and tone you use across your other marketing channels.
For example, if you're a fairly formal wealth management firm and generally err on the side of professionalism in your communications, your next SMS marketing campaign likely isn't the place to get flippant and make jokes. That said, let's say your brand is a fun-loving, cheeky microbrewery. Chances are, your team already weaves personality and humor into your other marketing communications, so it makes sense to flow that into your SMS marketing campaign.
SMS marketing is not meant to replace your other marketing efforts, but rather to augment them. What can you do with SMS that you otherwise couldn't?
SMS Makes Customers Lives Easier
According to eMarketer.com, customers view the most valuable types of SMS texts as appointment reminders (68%), status updates on deliveries or shipments (30%), and booking services (20%). Because customers are getting these reminders and updates directly to their phones via text, these reminders are often more helpful than those that simply get buried in an email inbox.
SMS Boasts High Engagement Rates
SMS marketing texts get a 98% open rate as mentioned above. That level of open rate is almost unheard of in the marketing world. That means SMS marketing is a tremendous opportunity to build on your other marketing efforts and get practically guaranteed eyeballs on your message.
For example, let's say you sent an email letting a customer know they were overdue for an annual appointment, or that your store missed them since they hadn't visited in a while. While the customer might have seen the email, chances are they got distracted, forgot, or didn't prioritize the message. By sending a complimentary text message, you're giving the customer a polite reminder to take action in a way that allows them to do so directly from their phone.
SMS Offers Instant Deliverability
Sure, you can argue that email marketing services offer instant deliverability. But are customers really checking their email every few minutes? Do they really have email notifications turned on from brands? The answer is, likely, no.
With SMS marketing, however, customers are bound to see the message almost immediately. 97% of Americans have cell phones, and most use them to text. Even if they don't see your text when it first pops up, customers will see it as they check back through their messages when responding to family and friends. This gives your brand a tremendous opportunity to leverage timely content and offers for customers. For example, you might offer a two-day holiday discount or an immediate follow-up to an appointment to ensure a high-touch experience.
7 SMS Marketing Best Practices
All businesses should follow SMS best practices, some of which are related to Telephone Consumer Protection Act (TCPA) compliance, and others that will simply help you get better results. Below are the top seven to implement for your company.
1. Get Written Permission
Not only are there serious legal implications to sending unsolicited SMS texts to your customers, you also run the risk of completely alienating them from your brand. Like all marketing tools, SMS should be used to provide true value to and help your customers accomplish their goals, so sending them content they didn't ask for is a sure way to turn them off from your brand.
2. Make it Personalized
The more personalized your messages are, the higher the engagement you'll receive. And personalization includes much more than simply dropping in a customer's first name. You might also send messages specific to the service they received or offers that are specific to their preferences. For instance, if someone received a haircut but not a hair highlight at your salon, you might send a follow-up text asking them to rate their experience and then offering a discounted highlight service at their next visit.
3. Sign Off Every Time
Don't expect that a customer has your phone number saved down in their phone. Chances are, you're still showing up as a string of numbers in their "from" field, so be sure to sign off with the name of your business in every text. For instance, you might share your message and then add, "-YourBusinessName" at the end of the text. It's as simple as that.
4. Share an Offer
As mentioned above, SMS marketing is a great way to provide value to your customers — and what better way than through a personalized offer? The more customers feel like they are saving money by receiving your texts, the more they will value hearing from you. Try offering a 20% off code for a product or service, or even a referral code that allows for both the referrer and referee to get a discount.
5. Allow for Easy Opt-Outs
Make sure to remove barriers for customers that would like to opt-out of your SMS marketing campaign. For example, you could include a note at the bottom of your text message saying "Text STOP if you would no longer like to receive our messages." Making this process easy is important to maintaining trust with your customers and may encourage some to return in the future.
6. Choose Your Timing Wisely
One of the greatest benefits of SMS marketing is the flexibility you have in timing your sends. Make sure to tailor the timing of your SMS marketing to your ideal customer's preferences.
For instance, if you are a coffee shop that largely serves early-rising professionals, a morning text is likely appropriate. Those same customers might balk at a message sent later in the evening (especially if it included a discount they could no longer use).
If your business is a high-end restaurant or bar, it may be better to send your message later in the day, closer to when you open. As mentioned above, (but it likely goes without saying), timing is also key when sending appointment reminders and follow-ups.
7. Invite Dialogue
If your SMS marketing platform allows for two-way communication, make sure your customers know it! Invite dialogue by asking questions at the end of your communications. For example, if you send a new offer, you might follow it up with, "Does this interest you?" or "Do you have any questions?" Be sure to also include easy responses to appointment reminders, such as offering the ability to type "Y," "N," or "R" to confirm, cancel, or reschedule an appointment, for instance.
Reach Your Customers with Texting Base
Remember, these best practices are critical to the success of your SMS marketing campaign. It's important to choose a platform that builds on these best practices to ensure you have a smooth experience in launching your SMS marketing campaign.
Texting Base is a tremendous solution to get your SMS marketing off the ground with a streamlined transition for you and your marketing team. Our SMS marketing platform provides simple SMS and MMS solutions for businesses. Its user-friendly, affordable platform is ideal for any business size and industry, including in-store and online retail, radio stations, schools, restaurants, real estate, enterprises, nonprofits and many more. Get in touch with Texting Base today for a two-week free trial.