How to Use Text Messaging in Healthcare (+ Free Templates)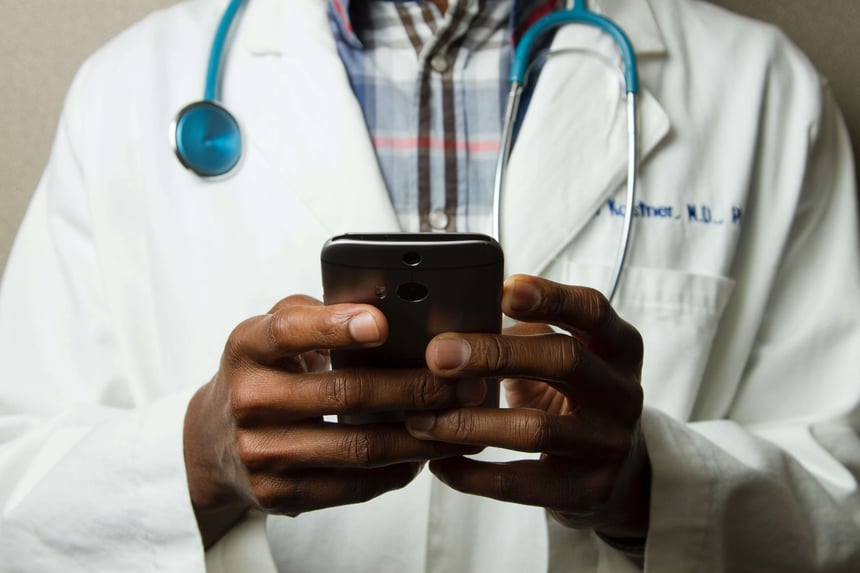 Communication between physicians and their patients is vital. Yet it can sometimes take days of missed calls and playing phone tag to schedule an appointment or receive test results.
One innovative solution gaining widespread adoption is SMS (Short Message Service), or text messaging.
Healthcare offices are increasingly turning to SMS, and the statistics speak volumes. A staggering 80% of patients prefer receiving text messages from their healthcare providers for various purposes.
With SMS, healthcare providers can streamline administrative tasks, automate appointment reminders, and make it easier for patients to reach out with questions, requests, or feedback. The result? Reduced no-show rates, increased patient attendance, and enhanced accessibility to healthcare services.
Table of Contents
Benefits of Texting Patients
Texting simplifies communication and improves customer engagement and overall healthcare quality. Advantages for texting patients include:
Reduced no-shows: Text message appointment reminders significantly lower no-show rates, improving patient attendance.
Streamlined communication: Texting simplifies administrative tasks by automating repetitive processes like appointment confirmations and cancellations.
Enhanced accessibility: Text messaging improves patient-provider communication, making it easier for patients to reach out with questions, requests, or feedback.
Improved patient satisfaction: Efficient communication and reduced waiting times can increase patient satisfaction and overall healthcare quality.
Is Texting HIPAA Compliant?
In the healthcare industry, protecting sensitive patient information is paramount. The Health Insurance Portability and Accountability Act (HIPAA) sets strict guidelines for safeguarding Protected Health Information (PHI). PHI includes individually identifiable health information, such as medical records, patient names, and contact details.
Texting is not inherently HIPAA compliant because standard SMS communication lacks encryption and security measures to protect PHI. For healthcare providers, using regular text messaging services to transmit patient data can pose a significant risk of HIPAA violations.
You can ensure compliance with HIPAA regulations by following the Minimum Necessary Standard. The Minimum Necessary Standard requires responsible entities to "make reasonable efforts to ensure that access to PHI is limited to the necessary information to accomplish the intended purpose of a particular use, disclosure or request."
Pro tip: To remain HIPAA-compliant, you must never send Protected Health Information via SMS. Disclose the least amount of PHI possible to fulfill any query or request.
Read our 10-Point Checklist for HIPAA-Compliant Texting.
Template Types - New Patients, Appointments and More
Does texting patients mean that you create a new text for every need? Thankfully, no. Using templates enables you to send information in pre-designed formats.
With a few customizable templates, you can keep in touch with your current patients and enable staff members to answer common questions. This means you can give your full attention to the patient sitting before you.
From text message reminders for medical appointments to changing office hours, it is important that your patients get information in the most direct way possible. Here are a few instances when SMS templates for healthcare organizations can help streamline communications with patients.
New patients or leads

Appointment confirmation texts

Appointment reminders

Appointment cancellation & rescheduling

Medication reminder text messages

Follow-up texts

Review requests

Operating hours & office closures

Special offers

Vaccination availability updates
Here are some commonly used templates for different types of healthcare businesses.
Text Message Templates for Physicians
Busy schedules and the unpredictable nature of healthcare mean that doctors' offices can sometimes be hard to reach. With these templates, you can show your patients that you are responsive and consistently thinking of ways to meet their needs.
Thank you for scheduling an appointment with [Doctor Name] for [Date, Time]. To reschedule, reply R; to cancel, reply C.
Notes from your visit to [Doctor Name] are available on the Patient Portal [URL]. Call [Phone Number] if you have any questions.
[Patient Name], you have new test results. [Doctor Name] has posted your test results to the Patient Portal. [URL]
[Practice Name] will be closed on [Holiday] to give our employees time to spend with their families! We will resume our regular hours on [Date, Time].
Templates for Dental Offices
Going to the dentist might be drudgery for many people, but it doesn't have to be. With an SMS platform, scheduling a teeth cleaning can be a breeze for both patient and dentist and help ensure they come in regularly.
You have rescheduled your appointment with [Doctor Name] for [Date, Time]. To cancel, please reply C.
Now that your teeth are minty fresh, it's time to put your next cleaning on the books! Visit [URL] to schedule your next appointment with [Dentist Name].
[Company Name] has changed its hours and will now close at 3:00 PM on Fridays. If you need to reschedule or cancel any appointments, call [Phone Number].
Halloween is around the corner! Get 10% off a child's teeth cleaning if you make an appointment at [Company Name] between Nov. 1 - Nov. 7. Call [Phone Number].
Templates for Optometry Offices
Many people place their eye care on the back burner, especially if they have no significant issues with their vision. However, regular optometrist visits are essential for maintaining good eye health and catching things like glaucoma or cataracts early.
This is a reminder of your upcoming appointment with [Doctor Name] for [Date, Time]. To reschedule, reply; to cancel, reply C.
It's time for your annual vision screening at [Practice Name]! Call [Phone Number] to schedule an appointment with [Doctor Name] today!
Hello [Patient Name], please consider taking our patient satisfaction survey! It will help us "see" how we can improve patient satisfaction! [URL]
Templates for Elective Treatments and Med Spas
Med Spas and other facilities that offer elective treatments often have seasonal surges in clientele. To keep the schedule running smoothly, you must keep in touch regarding appointment changes and office hours.
Hello [Patient Name]. This is a reminder of your appointment with [Doctor/Technician Name] for [Date, Time]. To reschedule, reply R; to cancel, reply C.
Hello [Patient Name]. We would like to schedule the second step of your treatment at [Company Name] in the next two weeks. Please call [Phone Number] to make an appointment.
Hi [Patient Name], [Company Name] is offering 15% off facials this weekend! Call [Phone Number] to book an appointment!
Best Practices for Text Messaging in Healthcare
To make the most of text messaging in healthcare, consider the following best practices:
Obtain patient consent:

Always

obtain consent before sending and receiving text messages

to ensure compliance with regulations and respect patient preferences.

Establish clear communication policies: Determine how text messaging should be used, including when and what type of information can be shared.
Avoid mixing marketing and healthcare communications: Keep marketing messages separate from healthcare-related texts to prevent confusion and maintain professionalism.
Send short and informative messages: Keep messages concise, focusing on important information to ensure clarity and effective patient communication.
Adhering to these best practices ensures that healthcare providers can leverage SMS as a secure, efficient, and patient-friendly communication tool while maintaining regulatory compliance and safeguarding patient data.
Send Healthcare Text Messages with Texting Base
Healthcare text messaging is a significant value-add to your patients. It's an effective way to simplify frequently asked questions and convey updates across your practice. Integrating a text messaging platform can help improve communication for everyone.
Texting Base empowers medical professionals to connect with their patients effortlessly. By choosing Textedly, healthcare providers gain a comprehensive tool to enhance patient engagement, improve healthcare accessibility, and streamline communication, ultimately leading to better patient care and satisfaction.
Find out how much SMS can help improve your healthcare business by signing up for a free trial of Texting Base today.