4 Ways to Leverage SMS Segmentation for Better Engagement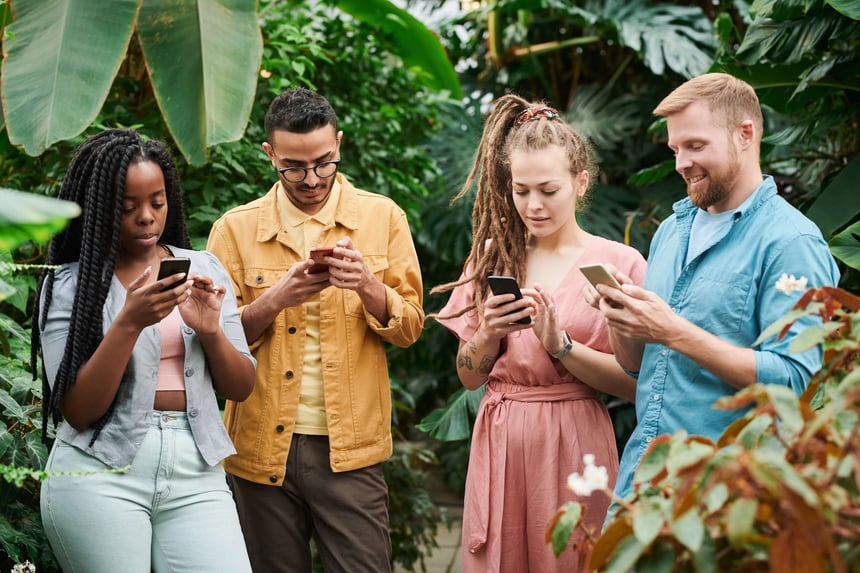 79% of consumers say they expect brands to show they understand and care about them. Then—and only then—are they willing to make a purchase.
So, the question is: How do you show current and potential customers that you know them? You personalize your engagements through a tried-and-true marketing technique called SMS segmentation.
SMS segmentation is a text message marketing strategy that involves separating your audience into similar groups (called segments), then sending each group marketing materials that cater to their wants and needs. By marketing to people rather than at them, you provide a more engaging experience that ultimately leads to more conversions.
In other words, segments are the answer if you want to send the right people the right message. This short guide will walk you through how to create your segments and what to do with them.
Table of Contents
How to Create Meaningful Audience Segments
Your SMS segmentation strategy is only as strong as the segments you create, so it's worth touching on how to group your customers.
The most common way to segment an audience is to put people with similar characteristics together. Brands often create groups based on:
Age
Gender
Location
Income
Likes and dislikes
Even by creating two distinct groups based on a single characteristic like age (say, 18–40 and 40+), you can already modify your messaging to be more effective. However, the more traits you can include, the more you can fine-tune your marketing efforts.
Another frequently overlooked segmentation tool is behavior data like purchase history or average spending. For example, you can explicitly target any customer who hasn't made a purchase in the last 90 days.
In some ways, these segments are easier to put together, as the only data you need is data you control. But, at the same time, segmenting by behavior alone doesn't help you speak your audience's language; it just means your promotions are more targeted.
So, message segments should take characteristics and behavior into account.
With that in mind, a segment should also be sizable—which means it can't be too specific. There's little sense in drafting up a drip campaign that caters to 32-year-old women from Tallahassee with a $115,000/year salary if only eight people will see it.
In a perfect world, you'd write an individualized text message to every customer. But there's not enough time in a day. The happy medium is to create segments that are specific enough to resonate but substantial enough that the extra effort pays off.
How to Use Segmentation to Your Advantage
How you segment your audience will depend on your goals and capabilities. But regardless of how you choose to group your customers, you can use segmentation to drive engagement, boost sales and improve customer satisfaction. Here are a few ways to leverage segments to create more personalized campaigns.
1. Reward Big Spenders
Using behavioral data like purchase history and frequency, you can identify your top supporters. Why not thank them for their loyalty with an exclusive offer? SMS segmentation makes it easy to send a message like:
"We're your biggest fan—and it looks like the feeling is mutual. Add to your collection with this EXCLUSIVE deal. Head to [URL] and enter the promo code BESTFRIENDS for $25 off and free shipping."
2. Comment on Current Events
With geographical data at your disposal, you can craft timely, topical marketing messages that seem more conversational. For example, if a cold front just moved through New York, you might send a targeted message to your NYC audience that reads:
"Brrrr! It sure is chilly out there. Why not dash into your local [your store name] to warm up? While you regain the feeling in your fingertips, feel free to browse our new Winter collection—now 15% off!"
3. Capture On-the-Fence Consumers
With the right analytic tools, you can determine who in your audience has considered a purchase but hasn't followed through. For instance, your text message marketing platform can pinpoint potential buyers that have opened a link but didn't make it to checkout. To those people, you might say:
"Looking for a sign to try our newest products? Well, here it is: All sale items are now buy one, get one free until Friday."
4. Follow Up Post Purchase
Your marketing efforts shouldn't end after a customer completes their order. By creating a segment for people who shopped in the last 30 days, you can provide excellent post-purchase care without breaking a sweat. Your message might look like this:
"Hi [name]. How is your new purchase treating you? If you have any questions, comments or concerns, don't hesitate to let us know!"
And to field any questions that do come up, you can leverage auto-response texts to lighten your workload.
Make the Most of Audience Segmentation with Texting Base
Group texting is only effective when your carefully-crafted messages reach the right groups. With segmentation, you can ensure your marketing efforts aren't wasted. Even as your audience grows and changes, SMS segmentation ensures that your text message marketing grows along with it.
At Texting Base, we've simplified the basics of bulk text messaging—including audience segmentation—and put them at your fingertips. And with a feature list that includes unlimited contacts, picture messaging, personalization and more, there's no limit to what you can do with text messages.
Start your free trial and see firsthand how SMS segmentation drives conversions.