Text Message Marketing for Gyms (+ Free Templates)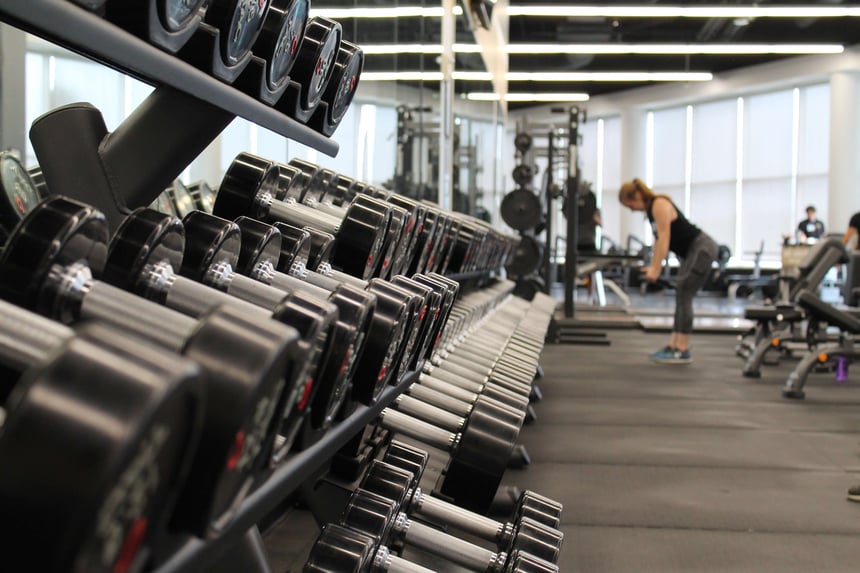 Is marketing your gym or fitness program a heavy weight on your shoulders? Using text marketing can breathe life back into your business.
In addition to saving you time and money, SMS provides a valuable communication channel that keeps customers in the loop when you're not able to.
SMS marketing, also known as text marketing, is popular for its ease of use and broad customer reach. Gyms and fitness centers are among the many industries that take advantage of this lucrative marketing approach.
Today, we're sharing tips and free text templates for a variety of common marketing needs.
SMS Marketing for Gyms – Why it Works
SMS messages have a 90% open rate, which makes them a reliable way to keep in touch with customers. Use them to keep customers informed of operational changes, set up sessions and classes, and to offer promotions and deals.
Drive Engagement With These Gym SMS Templates
1. Opt-In Texts
Opt-in texts are very important in SMS marketing, because if you do not have permission from the customer, any message you send them is considered "spam" and your company will be considered noncompliant to the TCPA (Telephone Consumer Protection Act).
You are signed up for [Company Name] notifications. Message & Data rates may apply. Reply YES to confirm, STOP to stop.
The text doesn't have to be an awkward, clumsy stand-alone text, rather, you can include it as the last line in other promotional texts.
Thank you for your purchase! Take 10% off your next order at [Company Name] with the code [insert code]. To opt-out text STOP.
2. Welcome Messages
It is beneficial to send a welcome message to new subscribers to thank them for their business and let them know what kind of texts they can expect from your company.
Welcome to the [Company Name] community! You have been enrolled to receive text notifications and updates. To opt-out, reply STOP.
Thank you for subscribing to receive [Company Name] updates! Stay tuned for announcements about our exciting new classes!
3. Schedule Changes
If your gym or fitness center offers classes, it is important to let your clients know about time or location changes so they can adjust their schedule accordingly.
Greetings from [Company Name]! If you are signed up to attend [class name] today at [time], the time has been changed to [new time]. Call [phone number] for questions.
4. Updates to Operating Hours
It is important to keep your clients updated about any changes in operating hours, or if you need to close temporarily due to a holiday, inclement weather or repairs.
Reminder: [Company Name] will be closed on [day of the week, calendar date]* for [holiday]. We will resume regular business hours on [day of the week, calendar date].
Due to the [snowstorm/hurricane/other natural disaster], [Company Name] is closing our location until the roads are cleared. We will notify you when we have a reopening date.
[Company name] will be closed from [day of the week, calendar date] to [day of the week, calendar date] so we can update our [thing that needs repair] to provide a better client experience.
*An example of [day of the week, calendar date] would be Monday, January 1st. It is helpful to include both so there is no confusion.
5. Product Sales and Promos
If your gym or fitness center sells branded clothing, workout gear or nutrition products, you can use SMS to let your customers know about upcoming sales or promotions.
[Company Name] is proud to partner with [Brand Name] and we are now selling [product name]. Check it out in our reception area on your next visit!
[Company Name] is offering 20% off our [product name] for the next [amount of time]! Hurry so you don't miss out on this great deal!
6. Personal Training Appointments
You can arrange sessions between personal trainers and clients. Use SMS to set up a meeting time, or inform your client of a time change or cancellation.
Good morning [client name]! You have set up a session with [trainer name] for [time] at [Company Name] tomorrow. If you wish to cancel, reply C to this text.
7. Promote Fitness Challenges
If your gym or fitness center is sponsoring a fitness challenge, you can use SMS to tell your customers about it and to offer encouragement.
Hello [client name]! [Company Name] is introducing our [name of challenge]! For the next [amount of time], see how far you can go! We believe in you!
8. Nutrition/Exercise Tips
The goal of any fitness company is to encourage an active and healthy lifestyle. You can offer encouragement by periodically sending nutrition or exercise tips.
Be careful not to bombard them with too many messages, and remember to keep the tone upbeat and encouraging, and not to "shame" them for any unwanted behaviors (such as overindulging during the holidays).
Hi [client name]! We at [Company Name] noticed that you haven't missed a single session this [period of time]! We are so proud of you, keep up the great work!
9. Membership Renewals and Billing Reminders
SMS is a good way to remind the customer about membership renewals without the added pressure of a phone call or email. This is a great opportunity to reward loyal clients with a discount on a monthly or yearly membership.
Thank you for your payment of [dollar amount]. Your [Company Name] membership has been renewed for another [month/year/other time period]. We are happy to help with your fitness goals!
Hi [client name], the last day to renew your [membership plan] at [10%/20%/etc.] off is tomorrow. Call [phone number] if you have questions or need help renewing your membership.
Reminder: Please make your payment by [date] to ensure continued membership at [Company Name]. Please disregard if you've already made your payment.
10. Gym or Member-Exclusive Events
A great way to motivate your clients is to encourage them to bring their friends. You can offer free guest passes for registered members for a limited time, or put on a gym-exclusive event.
[Company Name] is offering free guest passes for the next [period of time]. Call [phone number] or visit our website for more info.
11. Birthday Discounts
It is important to retain loyal customers by providing them personalized offers. Sending a birthday message is easy and can be programmed in advance.
Hello [client name]! We at [Company Name] would like to wish you a Happy Birthday! Visit us any time in the next week to get a free [promotional product]!
Happy Birthday [client name]! Thank you for being a part of the [Company Name] family for the past [amount of time]. To show our appreciation, we are offering you [amount of time] free with the renewal of your next membership!
12. Surveys and Feedback Requests
Instead of waiting for reviews to pop up on Yelp or another platform, you can be proactive with your customer service and request that your clients fill out a brief satisfaction survey after their visit.
Thank you for visiting [Company Name]! We would love to hear about your experience! Click the link to fill out our satisfaction survey. [insert link]
Use Texting Base to Expand Your Reach
Are you ready to take your fitness business to the next level? Our user-friendly, affordable platform is ideal for any business size and any industry.
Find out just how much SMS marketing can do for your business by starting your free trial of Texting Base today!