How to Grow Your Auto Repair Business with Text Marketing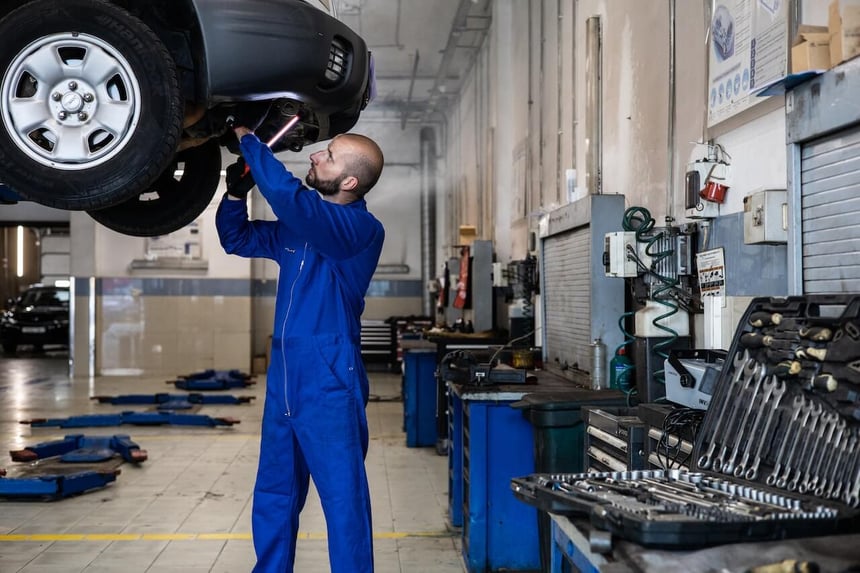 If you recently opened a mechanic business or are looking to scale up operations, auto repair marketing might be the last item on your to-do list.
However, marketing efforts are critical to success, especially if you're in the early days of business. After all, the only way to get new clients in the door is to spread the word, and that's the entire purpose of marketing.
While a typical list of auto repair marketing ideas might suggest running a promotion on oil changes or offering free inspections, you should consider ways to stand out from the competition with innovative ideas, like text message marketing.
SMS marketing is an excellent way for businesses (regardless of industry) to connect with new and existing customers. Though it's important to be mindful of text messaging compliance rules before diving in.
With this in mind, let's break down how your mechanic business can use text messaging to grow your client base, tackle logistics and build trust in your community.
Why Choose Text Marketing?
Text message marketing may seem new-age or irrelevant to the auto repair industry, but this couldn't be further from the truth. Mechanics can reap numerous benefits of texting tactics; here's how:
Recipients pay attention to texts

– Text messages have an

open rate

of up to 98% and a response rate as high as 45%. In marketing speak, those numbers are astronomical. By comparison, emails feature about a 20% open rate and a 6% response rate.

Texting is fast

– After working on clients' cars, ordering parts and handling the seemingly-endless task load of everyday operations, you simply may not have time to make cold calls or reschedule the day's missed appointments. With text messaging, you can speed up (and even automate) logistics, new client outreach and more.

Texting tech is growing

– Automation is the name of the game for text message marketing. Advanced texting platforms can send

automatic responses

, coordinate scheduled text campaigns, connect clients to review platforms and so much more.
Using Text Message Marketing in Auto Repair
Text message marketing offers a variety of benefits, but what could a fleshed-out texting protocol look like for your auto repair shop's everyday operations? Let's explore how texting could solve some of your biggest pain points.
Converting Leads into Customers
Growing your existing customer base is critical during your first few years in business. With text message marketing, you can:
Add numbers from your leads list to the platform

Introduce your business via text

Offer new clients discounts on services during their first visit

Ask potential clients if they'd like to make an appointment
Simply introducing your business via text puts your business in front of potential clients on the devices they rely on most: their smartphones.
Customer Retention
SMS marketing can also help you retain existing customers. Consider the following texting-based retention tactics:
Service reminders

– Send your existing clients periodic reminders about routine maintenance to keep them coming back. A simple reminder that it's time for an oil change or tire rotation can show customers that you care.

Appointment-setting

– If a repeat client calls the shop to make an appointment, but you miss the call, you can follow up with a text message and allow them to schedule without making (or waiting for) a return call.

Special occasion messages

– Sending out messages on major holidays—even to alert customers that you'll be closed in observance—can keep your brand name top-of-mind.

Discounts and promotions

– If you run a

limited-time promotion

, alert your customers via text. In the same message, you can offer them an opportunity to set an appointment or pre-pay at a discounted price.
Appointment Logistics
Scheduling can be a major logistical challenge for auto repair shops, especially if you don't employ full-time office staff.
If you rely on your mechanic team to answer phone calls, you could miss calls from potential customers.
Your team likely spends most business hours working on vehicles or interacting with clients face-to-face. This leaves your team with little time to return calls, reschedule appointments or offer appointment confirmations.
Plus, if a client misses their appointment but never calls to reschedule, they could slip through the cracks, especially on a busy day.
With text message-based appointments, you could automate a significant portion of your logistics communications. You could send messages for:
Appointment confirmation

Appointment reminders

Missed appointment rescheduling

Appointment requests for routine service
Using all of these functions could eliminate significant time spent on the phone with clients. This is time that could be used to order parts, perform bookkeeping tasks, interface with the clients standing in your waiting room and, of course, work on clients' vehicles.
Requesting Reviews
Gathering customer reviews is critical to getting new business—a primary concern for new shops.
Many consumers see online reviews as a transparent indicator of a business's quality. In fact, 91 percent of 18- to 34-year-olds trust reviews as highly as they trust a personal recommendation. Auto repair customers are no exception—even industry experts recommend that customers consult review platforms before choosing a mechanic.
So, when it's time to request a review from a valued customer, why not send them a text? If you just had an enjoyable customer interaction, you can utilize review requests via text, which are:
Simple to automate

– Just write a script and automatically send it to clients after they leave the shop.

Digitally integrated

– Instead of asking someone in-person to write an online review (a task they may complete on their smartphone), you can send clients a direct link to your Google business page or Yelp listing.

Impactful

– When you ask clients for honest feedback about your services, you remind them that their input matters.
Grow Your Auto Business with Texting Base
When it comes to auto repair marketing, the most important factor is your time. Instead of investing hours into time-consuming advertising methods, you can stay ahead of the competition and embrace emerging innovations like text message marketing.
If you're ready to embrace the texting technology of tomorrow, look no further than Texting Base. Our easy-to-use text message marketing platform is a powerful tool for connecting with existing clients, earning new ones and streamlining some of your shop's key functions.
Thousands of brands have integrated SMS into their auto-shop marketing plan. If you're ready to grow, try Texting Base for free. In minutes, you'll reach your clients via their most frequently-used channel.
Sources:
Gartner Digital Markets. The Future of Sales Follow-Ups: Text Messages. https://www.gartner.com/en/digital-markets/insights/the-future-of-sales-follow-ups-text-messages
Qualtrics. Online Reviews Statistics to Know in 2022. https://www.qualtrics.com/blog/online-review-stats/
Edmunds. How to Find a Good Car Mechanic. https://www.edmunds.com/car-maintenance/how-to-find-a-good-car-mechanic.html