TCPA Compliance: A Complete SMS Checklist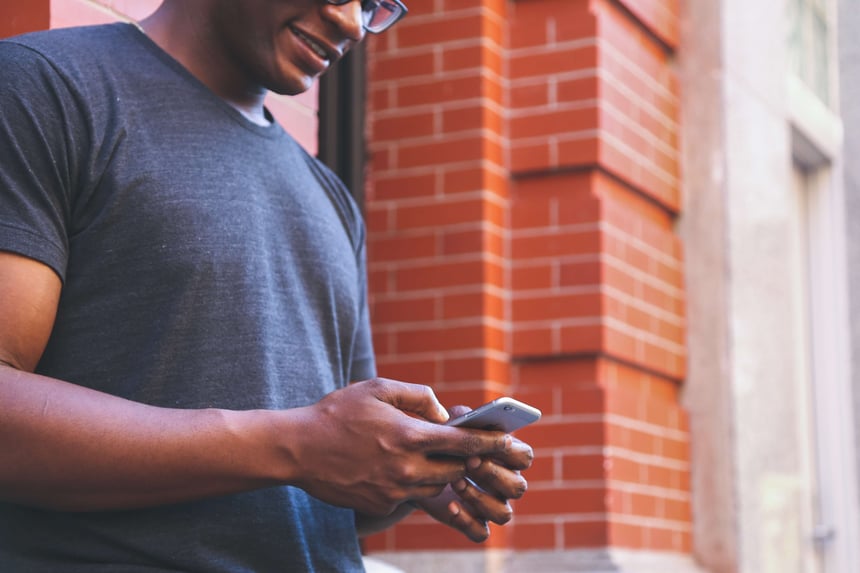 Even if you're new to SMS marketing, you've likely heard about TCPA compliance. Our TCPA Compliance Checklist keeps your customers engaged and your business out of trouble.
More and more companies are hopping aboard the SMS (Short Message Service) train. This isn't surprising given the channel's high open rates, strong performance metrics, and two-way communication capabilities.
However, while businesses are right to pursue this lucrative marketing approach, many are unaware of the need to adhere to TCPA compliance regulations.
Before you send your first text, review this comprehensive guide to ensure your business is doing things by the book.
TCPA Compliance: An Overview
The Telephone Consumer Protection Act (TCPA) dates back to 1991, when the Federal Communications Commission (FCC) enacted a law to regulate telemarketing practices and protect consumers from unsolicited calls made by telemarketers and automated dialing systems (also known as "robocalls.")
Consumers felt telemarketers' incessant calls were interrupting their lives with advertising that wasn't relevant or helpful. These days, TCPA rules apply to any company that uses phone calls or text messages to reach their customers or prospective customers.
Adhering to TCPA compliance standards can significantly mitigate the risk of violations, lawsuits, and damage to your brand.
Which Businesses Must Follow TCPA Regulations?
The TCPA applies to all for-profit industries, although it does provide exemptions for tax-exempt non-profit organizations. So if your for-profit business sends out text messages, you must ensure they comply with the TCPA before sending them to any customer who has signed up for your service.
Start by reviewing our TCPA checklist below to ensure you're operating within the rules and kicking off your SMS marketing on the right note.
TCPA Compliance Checklist
The FCC specifies the requirements for legal SMS outreach to your customers. By reviewing the following checklist, you can be more confident in leveraging SMS marketing for your own business:
1. Receive Express Written Consent
If you intend to market, sell, or promote your business' products or services, you must have prior express written consent.
Express written consent is what you would imagine it to be: written permission to contact a customer. This type of permission is required on paper or digitally before reaching out to the customer with promotional material.
Digital consent options include:
Web forms
Electronically written verbal agreements
Text message keywords
You do not need to collect express consent for transactional texts directly related to the customer's account or services. For instance, you can send customers text messages telling them that their password has been changed or that a trade went through on their financial account.
However, those messages can't contain any marketing message or material. They must be strictly business unless you can get express consent for the marketing content. Once you have express permission, you can begin your text marketing campaign.
2. Offer an "Opt-Out" Option
Ensure text recipients have an option to opt out and have their number put on the National Do Not Call Registry (DNC). Your first message to new contacts must be an opt-in message that clearly states how to opt out of future communications.
Hi, [First Name].
Thank you for signing up for our SMS marketing alerts! Reply STOP to opt-out at any time.
[Company Name]
3. Avoid Calls to Numbers on the National Do Not Call Registry
Once a consumer has requested that their telephone number be added to the DNC, you may not call them. To ensure compliance, you should create and maintain an internal Do Not Call list, but if you rely on a copy of the national list, make sure it is no more than three months old.
4. Disclose How Many Texts Contacts Can Expect to Receive
Don't lose customers by sending too many (or not enough) texts. Set expectations by stating your text cadence clearly when new contacts sign up.
Hi [First Name],
Thank you for signing up for our SMS marketing alerts! You will receive one text message weekly, plus special offers suited to your needs.
[Company Name]
5. Send Messages Only During Normal Business Hours
You must not call or text a contact before 8 am or after 9 pm local time.
Read When Is the Best Time to Send Bulk SMS?
TCPA Best Practices
Now that we've covered the central tenets of TCPA compliance, let's review some TCPA best practices to ensure your bases are covered.
1. Train and Re-Train Employees
Just because you understand how imperative it is to stay in line with TCPA compliance doesn't mean your employees will. That's why you must educate them on the rules and why your business must remain in compliance.
Re-train employees annually to remind them of best practices and to capture new hires in the training process.
2. Remind Customers How To Opt-Out Once a Month
The FCC mandates that you give customers frequent opt-out opportunities to stay in TCPA compliance. A good practice is to allow customers to opt out once a month.
Fortunately, this doesn't have to be an awkward, standalone opt-out message. Instead, it can simply be a line at the end of a promotional text message reminding customers that they have the opportunity to opt out if they so choose.
Hi [First Name],
We wanted to offer you 20% off this month for the holidays! Reply Y to book an appointment.
[Company Name]
P.S. Not into receiving texts? Reply STOP to opt-out.
3. Send Out Customer Service Information Once a Month
Like any good marketing campaign, SMS marketing is most effective when you're genuine in communicating and supporting your customers. One of the easiest ways to do so is to make your customer service email or telephone number easily accessible.
For instance, let's say your company is a wealth management firm. You might send a text such as:
Hi [First Name],
Don't forget to talk to your advisor by [Date] to make tax-efficient IRA contributions before the year's end! For assistance with this transaction, contact our customer service team at [Phone Number]
[Company Name]
4. Mention Your Company Name
Be sure to include your company name in every text. There's no guarantee that your customers have saved your information on their phone as a contact, so it's always a professional courtesy to include your company name. As a bonus, it keeps you TCPA compliant and helps you engage your customers.
5. Disclose Fees Associated With SMS Opt-Ins
Before you send customers SMS messages, explain any possible fees for receiving your texts. While most people are on unlimited texting plans, you may have customers who aren't.
If someone is still on a limited plan, the last thing you want is for them to get charged extra to receive a text message from you. Like many of these best practices, simply being considerate of your customers will help you stay TCPA compliant and build rapport with them.
Hi [First Name],
Thank you for scheduling an appointment on [Date] at [Time]. You have opted-in for text reminders; charges from your carrier may apply. To opt-out, reply 'S' to this message.
6. Be Upfront With Your Intentions
If you have an ecommerce business and collect phone numbers at checkout, you must disclose if you plan to use their number for marketing communications.
If a customer thinks they're just supplying a number to aid in their checkout experience and then gets unwanted texts from your company, they're not going to be happy about it. Therefore, it behooves your company (and your customers) to disclose your intentions for taking their phone numbers.
What Are The Penalties For Violating The TCPA?
If you think it might be easier to ask for forgiveness than permission, think again.
Messing with the TCPA is no joke. Penalties associated with statutory damages from violating it can cost you $500 per call — or even $1,500 per call if it's determined that you willfully violated the rules.
Class action lawsuits related to TCPA violations can be awarded millions of dollars, which is not worth the risk of trying to sneak around the rules in marketing.
Reach Your Customers with Texting Base
Staying in line with TCPA compliance rules is crucial for protecting your business and keeping customers engaged. But TCPA compliance doesn't have to be difficult if you follow these rules and best practices.
Texting Base is an SMS marketing platform that provides simple SMS and MMS solutions for businesses of all sizes. Our user-friendly, affordable platform is ideal for many industries, including in-store and online retail, radio stations, schools, restaurants, real estate, enterprises, nonprofits and many more.