7 Examples of Spam Text Messages to Help You Identify Scammers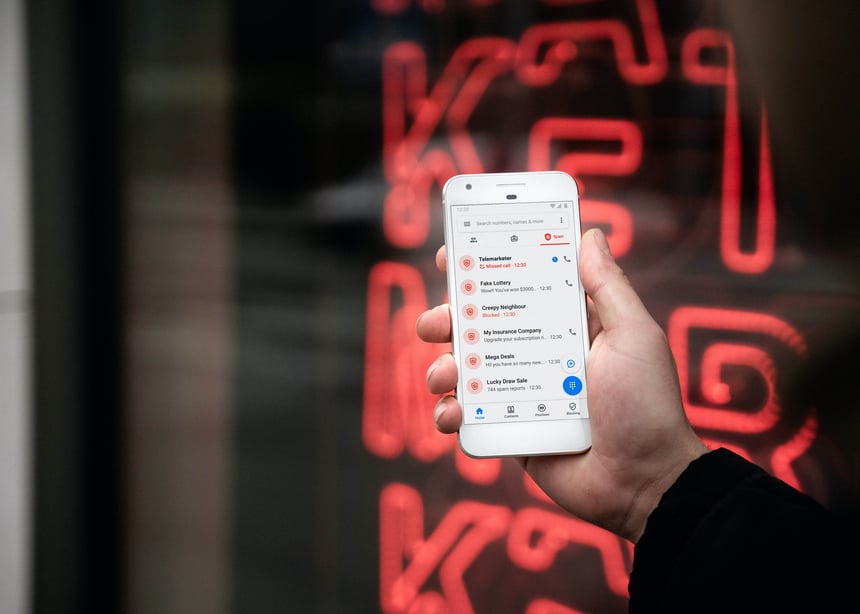 Have you ever received a text message from yourself? If so, you're not crazy – and you're not alone.
Phishing text messages are on the rise, and they're becoming more sophisticated. Unlike spam emails, which get sucked into a spam folder and deleted after 30 days, spam texts are nearly impossible to avoid. In 2021, scam texts cost Americans an estimated $615 million.
To protect yourself—and your finances—from the wrath of scam texts, it's important to know what they are and what they look like. This blog will share some common examples of spam messages and provide some tips for dealing with phishing scams.
What Is a Phishing Text Message?
Spam texts – also known as phishing texts – are unsolicited and unwarranted messages meant to scam individuals into revealing personal data. These texts appear to be sent by a trusted organization, business or even family member, so it can be tricky to pinpoint one when you receive it.
Phishing texts are typically computer-generated and are sent to your phone via email or instant messaging account. Sometimes, scammers even trick your phone's Caller ID to make it seem like a text is coming from a local or government-associated number (this is called "spoofing"). They commonly trick mobile users into sharing personal information or clicking on malware links.
Common indicators of a phishing text include:
The text is from an email address or untraceable phone number.
The text contains suspicious links.
The message contains an offer that is too good to be true.
The message requests personal information.
7 Examples of Spam Messages
Here are 7 common spam text messages to look out for.
1. Free Prizes, Gift Cards or Coupons
Free prizes are quite uncommon. If you get a text about free gifts, think twice before taking action!
Example: Congratulations! You've won a $500 Amazon gift card. Claim here: http://bit.ly/Ad0808Hy.
2. Verifying Bank Account Information
Banks rarely text their customers with important information or updates. Scammers frequently pose as banks to trick customers into revealing valuable information.
Example: ACTION REQUIRED. Please verify your Bank of America account information to avoid a hold on your account. Click here to verify: https://bit.ly/97qW5R8
3. Texts from Government Agencies
Like banks, government agencies will not text you regarding any important information. This is another common scam technique used to steal money.
Example: You've been overcharged for your 2021 taxes. Get your IRS tax refund here: https://bit.lyPt808gF23
4. Order Delivery
If you receive a text regarding an order, double-check the confirmation number before following any suspicious links. Since online orders are common, it's easy for scammers to convince mobile users that they have made a recent order that must be tracked.
Example: Get delivery updates on your USPS order NQ-836491 here: https://bit.ly/Po9808Lq
5. Credit Card Offers
Texts about low- or no-interest credit cards are a common way to get individuals to click on malware links.
Example: Congratulations! You're being offered a no-interest Visa credit card. Click here to claim: https://bit.ly/07tjA786
6. Issues With Your Payment Information
Requesting payment information details is another way mobile users get their credit card information stolen.
Example: There's an issue with your payment information from your recent order YQ-885629. Take action now: https://bit.ly/Hp187Ty19
7. "We've Noticed Suspicious Activity"
A text about suspicious activity from a scammer seems a bit hypocritical, right? This is a common spam text message example that appears concerning to the mobile user. To eradicate any suspicious activity, users frequently take action on text messages like these.
Example: Wells Fargo: We have detected suspicious activity on your account. Log in at http://bit.ly/9Uy6Qw89 to update your account preferences and protect your information.
How to Report Spam Text Messages
Fed up with receiving unwanted spam text messages? Here are three ways that you can report an unwanted message as spam:
Copy the message and send it to 7726 (SPAM).
Report it on the messaging app you use.
Report it to the Federal Trade Commission at

ReportFraud.ftc.gov
How to Block Spam Text Messages
On Your Phone
Blocking spam text messages is a simple way to avoid receiving unwanted messages.
To block spam text messages on an iPhone, open the iMessage app. Open the conversation, tap the contact and then tap the info button. Scroll down, and you'll see the option to "Block this Caller." Click this button, and you'll no longer receive messages from the number you blocked.
On an Android, open the spam conversation on your Messages app and tap the three dots in the upper right corner. Tap "People and Options," and select "Block [number]." Tap "Block" on the popup to confirm.
Through Your Phone Service Provider
For detailed options on blocking or flagging unwanted messages, check with your phone service provider about their solutions. There is always more than one way to block spam texts on your phone!
With Downloadable Apps
Several apps downloadable for Apple and Android mobile phones detect and block spam text messages. These apps will do the work for you so that you don't have to manually block each number that sends you a phishing text. While some apps require a paid subscription, many are free to use.
Free apps we recommend that are downloadable for iPhone and Android users:
Hiya Caller ID and Block
Mr. Number
Nomorobo
Use Texting Base to Expand Your Reach
Because of their sophistication, mobile users are becoming increasingly aware of phishing text messages. If you run a business, it's crucial to ensure that your customers recognize your SMS marketing campaigns as professional and legitimate before they delete or block your number.
Texting Base offers streamlined, easy-to-use SMS solutions that you (and your customers) can trust. Find out just how much SMS marketing can do for your business by starting your free trial of Texting Base today!