Stop Scammers! 14 Examples of Spam Text Messages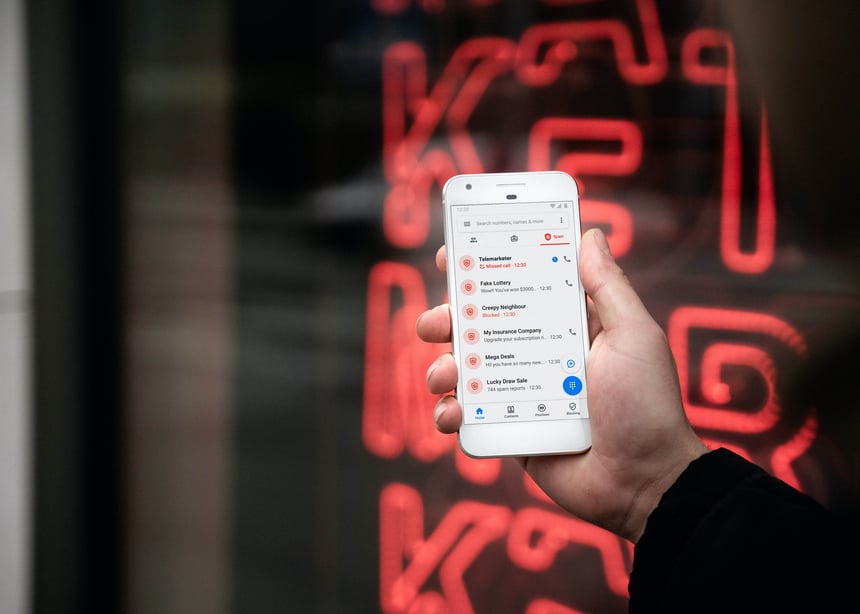 Have you ever received a text message from yourself? If so, you're not crazy – and you're not alone.
Spam text messages – or phishing texts – are unsolicited messages meant to scam you into revealing personal data. These texts appear to be sent by a trusted organization, business or even a family member, so it can be tricky to know when you receive one.
Spam texts are typically computer-generated and sent to your phone via email or an instant messaging account. Sometimes, scammers even "spoof" your phone's Caller ID to make it seem like a text is coming from a local or government-associated number.
These texts can look so real that they commonly trick mobile users into sharing personal information (like credit card information or Social Security numbers) or clicking on malware links.
Here are some common indicators of spam or phishing texts:
It's from an email address or untraceable phone number

It includes suspicious links

It contains obvious spelling errors

It extends an offer that is too good to be true

It requests personal information
To protect yourself—and your finances—from the wrath of spam texts, it's essential to know how to identify them. This blog will share 14 common examples of spam messages and provide some tips for dealing with text-based scams.
14 Examples of Spam Messages
Here are 14 common text message scams to look out for:
1. Free Prizes, Gift Cards or Coupons
Free prizes are quite uncommon. So if you get a text about free gifts, think twice before taking action!
Example: Congratulations! You've won a $500 Amazon gift card. Claim it here [Link].
2. Account Verifications
Banks rarely text their customers with important information or updates. Scammers frequently pose as banks to trick customers into revealing valuable information.
Example: ACTION REQUIRED. Please verify your Bank of America account information to avoid a hold on your account. Click here to confirm: [Link]
3. Texts from Government Agencies
Like banks, government agencies like the Internal Revenue Service will not text you regarding important information. This is another common scam technique used to steal money.
Example: You've been overcharged for your 2021 taxes. Get your IRS tax refund here: [Link]
4. Order Deliveries
If you receive a text regarding an order, double-check the confirmation number before following any suspicious links. Since online orders are common, it's easy for scammers to convince mobile users that they have made a recent order that must be tracked.
Example: Get delivery updates on your USPS order [Number] here: [Link]
5. Texts From Your Own Number
Getting a text from your own number is super weird. Spammers manipulate phone networks to get you to click on something that seems familiar and safe, but don't fall for it! This fairly new scam will often impersonate your phone carrier to lend more legitimacy.
Example: Thank you for paying last month's bill. We're rewarding our very best customers with a gift for their loyalty. Click here! [Link]
6. Credit Card Offers
Texts about low- or no-interest credit cards are a common way to get you to click on malware links.
Example: Congratulations! Your credit score entitles you to a no-interest Visa credit card. Click here to claim: [Link]
7. Unexpected Job Offers
When you haven't applied for a job, receiving a job offer can initially seem flattering. Employment-related scams lure you into clicking a link to learn more about a job offer or sometimes provide a phone number to call for more information.
Not only are texts like these (if they were legitimate) a violation of TCPA laws, employers and recruiters would never "roll the dice" and extend a job opportunity randomly.
Example: We've received your resume and would love to set up an online interview. Click here [Link] or call us at [Phone Number] at your earliest convenience.
8. Issues With Your Payment Information
Requesting payment information details is another way scammers steal credit card information. Call your credit card company directly if you're in doubt about a suspicious text.
Example: There's an issue with your payment information from your recent order [Order Number]. Take action now: [Link]
9

. "We've Noticed Suspicious Activity"
A text about suspicious activity from a scammer seems hypocritical, right? Unfortunately, this common spam text message example targets many mobile users. To eradicate any suspicious activity, users frequently take action on text messages like these.
Example: We have detected suspicious activity on your Wells Fargo account. Log in at [Link] to update your account preferences and protect your information.
10. Family Emergencies
Scammers often use fake family emergencies to trick people into clicking on a scam text message. For example, they may claim that a family member has been involved in an accident, is in the hospital, or needs money immediately.
By creating a sense of urgency and tapping into people's emotions, scammers hope to exploit their targets' goodwill and compassion, prompting them to respond quickly without verifying the message's authenticity.
Example: Hi Grandpa, it's me – I've been in a car accident, and my parents aren't around. Can you please send me money so I can get home? You can wire funds to me here: [Link]
11.

Two-Factor Authentication (2FA)
Two-factor authentication, or 2FA, is commonly used as a security step by banks and financial institutions as an extra security layer. Scammers may send a message claiming an issue with your 2FA settings and instruct you to click a link to resolve the issue.
Once you click the link, they may prompt you to enter your login credentials or other sensitive information, which the scammers use fraudulently.
Example: "Your 2FA settings are not up to date. To avoid account suspension, please click the following link to update your settings: [Link]."
12. Texts From Your Boss
Scammers may impersonate your boss or another company executive to get you to carry out a task, such as buying gift cards, transferring funds or providing sensitive information. However, the message is likely to be fraudulent, and any action taken could result in financial loss or data theft.
Example: "Hey, it's [Boss Name]. I'm in a meeting now and need your help with something urgent. Can you transfer $5,000 to this account ASAP? I'll explain everything later. Please keep this confidential."
13. Refunds and Overpayments
Who isn't intrigued by the promise of free money? Scammers send texts claiming that you're owed a refund due to an overpayment on an account. Unfortunately, clicking on a phishing link is the only way to get paid.
Example: "We're happy to inform you that you're entitled to a refund for overpayment on your AMEX account. Click on this link [Link] below to claim your refund."
14. Suspicious Group Texts
In recent years, there has been a significant rise in spam group texts, unsolicited text messages sent to a large group of people. A tip-off to spam group texts is that the other numbers in the group aren't in your contacts list. These scams contain phishing scams, malware links, and other fraudulent offers.
Example: Congratulations! You have all been selected to receive a free gift card worth $1000. Click on this link [Link] to claim your reward now. Limited time offer, so act fast! Don't miss out on this amazing opportunity.
How to Block and Report Spam Text Messages
Fed up with receiving unwanted spam text messages? Here's how to block and report annoying or dangerous spam messages.
How to Block Spam Text Messages
On Your Phone
Blocking spam text messages is a simple way to avoid receiving unwanted messages.
To block spam texts on an iPhone:
Go to Settings > Messages > Message Filtering and turn on the "Filter Unknown Senders" option. This setting will move all messages from unknown senders to a separate list, where you can review them at your leisure.
You can also add specific phone numbers or contacts to your "Blocked Contacts" list by going to Settings > Phone > Blocked Contacts.
To block spam texts on an Android:
On Android, the steps may vary slightly depending on your device and version of Android. Still, generally, you can block spam messages by long-pressing on the message and selecting "Block number" or "Report as spam."
You can also go to your messaging app's settings and look for options related to blocking and filtering messages. Additionally, many Android phones have built-in spam-blocking features, which you can access by going to Settings > Messages > Spam Protection or something similar.
Through Your Phone Service Provider
Check with your phone service provider about their solutions for flagging or blocking unwanted messages. There is always more than one way to stop spam texts on your phone!
With Downloadable Apps
Several apps downloadable for Apple and Android mobile phones detect and block spam text messages. These apps will do the work for you so that you don't have to manually block each number that sends you a phishing text. While some apps require a paid subscription, many are free to use.
Free apps we recommend that are downloadable for iPhone and Android users:
How to Report Spam Text Messages
Reporting spam text messages can help your carrier and messaging apps identify and block spam messages, reducing the number of unwanted messages you receive.
Copy the message and send it to 7726 (SPAM).

Report it on the messaging app you use.

On iPhone:

If you receive a spam text message on your iPhone, tap and hold on the message and select "Report Junk" from the pop-up menu.

On Android:

If you receive a spam text message on your Android phone, long-press on the message and select "Report Spam" or "Report Junk." This action will notify your messaging app that the message is unwanted.

Report it to the Federal Trade Commission at

ReportFraud.ftc.gov

.
Don't Appear Spammy With Texting Base
Mobile users are increasingly aware of spam text messages. If you run a business, you must ensure that your customers recognize your SMS marketing campaigns as professional and legitimate before they delete or block your number.
Texting Base offers streamlined, easy-to-use SMS solutions that you (and your customers) can trust. Find out just how much SMS marketing can do for your business by starting your free trial of Texting Base today!