Political Campaign Text Messaging: Practicing Compliance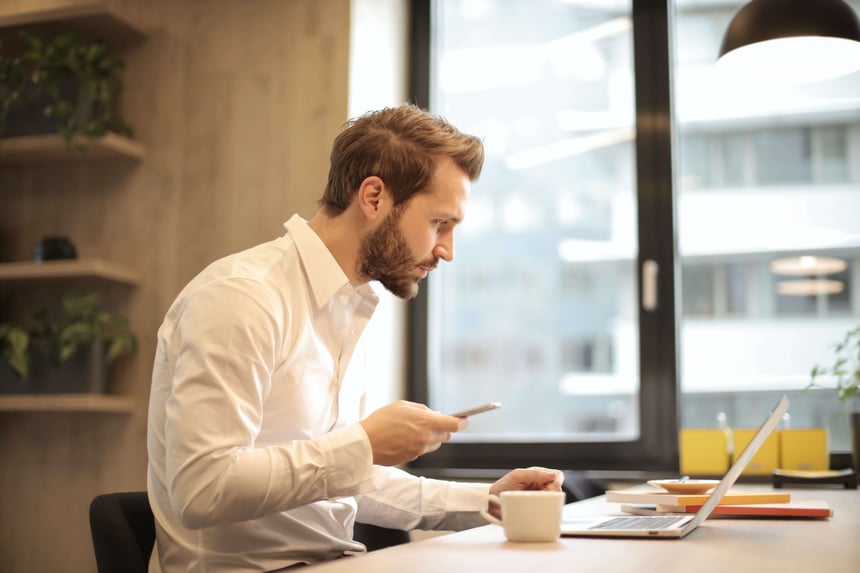 Political campaign text messaging is relatively similar to any other text message marketing—at least from a regulatory perspective.
And it simply makes sense for businesses, non-profit organizations and candidates to leverage SMS marketing:
SMS texts feature a 98% open rate (since most consumers have push notifications on for text messages).
60% of consumers open and read a text between one and five minutes after receipt.
Clickthrough rate (CTR) for text messages is 9.18% higher than the CTR for email marketing and other channels.
But, like other SMS campaigns, political text messages are regulated by a Federal Communications Commission (FCC) policy called the Telephone Consumer Protection Act (TCPA). So, before you put your volunteers to work or start writing your SMS marketing sequence for the campaign, check out the regulations described below.
Table of Contents
Text Messaging Rules for Candidates

How to Stay Within TCPA Guidelines

Understand When Consent is Required

Honor Requests to Opt-out

Respect the National Do Not Call List

Identify Yourself In Each Message

How Recipients Can Adjust Their Preferences
Political Campaign Text Messaging Info for Candidates
If you're a candidate (or a campaign manager) building a marketing plan for your next campaign, SMS is a channel you simply can't ignore. So let's break down some critical information about the TCPA and your compliance obligations.
What Is the TCPA?
The Telephone Consumer Protection Act (TCPA) of 1991 was developed to address consumers' growing concerns about telemarketing in the early 1990s.
The TCPA is administered by the Federal Communications Commission (FCC), which enforces regulations and issues fines to noncompliant senders.
Every agency, organization, business and individual is subject to the TCPA regulations, which have been updated as recently as 2012—your campaign isn't exempt, even if it's a non-profit organization. We'll explore TCPA regulations in more detail below.
How to Stay within TCPA Guidelines
Before we get into the details of the TCPA guidelines for political campaign text messaging, let's note two important features of the policy:
Per the FCC, text messages aren't exempt from any laws regulating phone calls—SMS and calls are equal in the eyes of the TCPA.
The FCC forbids organizations or individuals from sending marketing information to emergency numbers (e.g., hospitals or physicians' offices) or anyone on the National Do Not Call List. But political text messaging is technically exempt from the Do Not Call List requirement.
The TCPA stipulates four overarching rules for organizations using calls or SMS texts to reach consumers.
#1 Understand When Consent is Required
2012's update to the TCPA requires organizations sending SMS texts to receive clear, written consent from consumers before adding them to recipient lists—if they're using an auto-dialer, random number generator or other automated call or text messaging system.
If campaigns make manual calls or write manual SMS messages, they do not have to request consent before sending a message.
Candidates can seek consent from potential supporters by including consent language in their terms of service when consumers sign up for updates from a campaign or other political organization.
#2 Honor Requests to Opt-out
Per the TCPA, organizations must comply if a recipient chooses to opt out. While messages don't have to include specific language (e.g., "Reply with STOP to be removed from the recipient list"), the FCC states that "Campaigns should also honor opt-out requests if you reply STOP." If an organization continues to send messages or make calls to a recipient who has opted out, they may be subject to fines or additional FCC restrictions.
#3 Respect the National Do Not Call List
The TCPA requires organizations to honor the National Do Not Call List—except for political campaigns and financial institutions. But honoring the list is still a best practice for political campaigns. Consumers register on the list for various reasons, but a registration generally reflects a desire not to be contacted.
#4 Identify Yourself In Each Message
If any voice messages are pre-recorded, callers must identify themselves and the organizations they represent clearly at the start. They must also provide the phone number used to make the call or send the message.
One of the best ways to ensure compliance with the above general guidelines (and other, stickier requirements of the TCPA and FCC) is to use a text messaging service–like Texting Base–that features built-in regulatory measures.
How Recipients Can Adjust Their Preferences
If you're a consumer receiving too many political text messages, there are some actions you can take to decrease communications during election season:
Opt out by replying "STOP" to the sender.
Use your SMS app's filtering features (settings differ for each device and operating system).
Report spam messages to the FCC by forwarding them to 7726—the FCC's spam hotline—if you think the sender isn't in compliance.
Texting Base: Text Messaging Services for Candidates, Businesses and More
Political campaign text messaging isn't exempt from all elements of the TCPA, but compliance can still be complex.
If you're looking for an SMS partner that does the heavy lifting of compliance for you, check out Texting Base—the text message marketing partner that over 13,000 businesses and organizations trust.
Our advanced texting features (like drip campaign automation and conversation triggers) set us apart from other industry front-runners.
You can start for free today—no credit card required—and begin sending texts to your contacts. When you need to get the word out, Texting Base is here to help.
Sources:
Tech Jury. 35+ Must-Know SMS Marketing Statistics in 2022. https://techjury.net/blog/sms-marketing-statistics/
FDIC. Telephone Consumer Protection Act. https://www.fdic.gov/resources/supervision-and-examinations/consumer-compliance-examination-manual/documents/8/viii-5-1.pdf
FCC. Rules for Political Campaign Calls and Texts. https://www.fcc.gov/rules-political-campaign-calls-and-texts