13 Feedback SMS Messages to Capture Customer Insights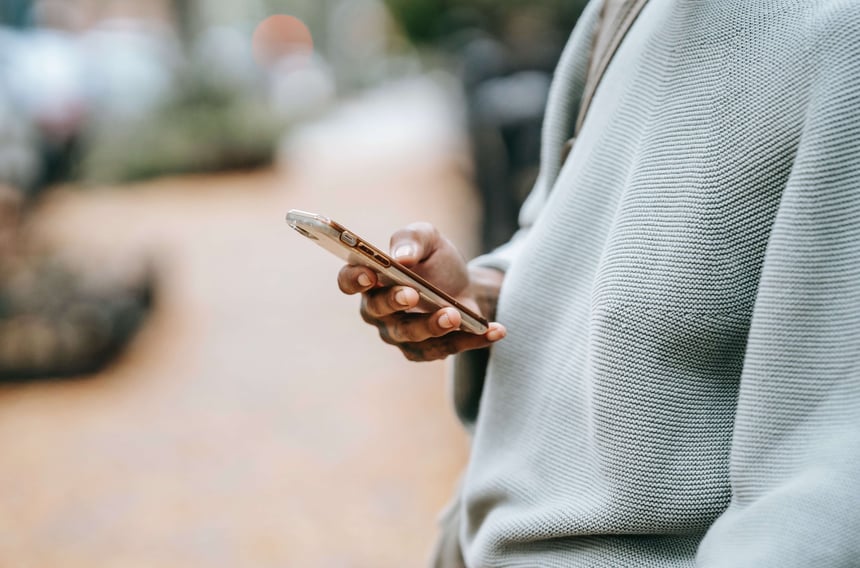 Gathering customer feedback is crucial for the success of your SMS marketing efforts.
Did you know that 95% of customers consider reviews before making a purchase decision? Whether launching new products, improving your website or planning unforgettable events, understanding your customers' thoughts is paramount. Every touchpoint allows you to gain deeper insights into your audience's mindset.
But what kind of feedback should you ask for? We've curated a collection of 13 effective feedback request message templates tailored for different scenarios. By using these SMS surveys, you'll be able to solicit valuable insights from your customers and improve their overall experience.
Table of Contents
First, brush up on The Basics of Bulk SMS Marketing.
#1 After a Recent Purchase
Timing is crucial when requesting customer feedback. Following up with a customer directly after a purchase is a prime opportunity, as this message type can:
Channel customer energy

Promote customer support

Answer any immediate questions
In addition, customers are more likely to write a review following a recent purchase because it's still top-of-mind.
To build this template, include a greeting, acknowledge their recent purchase and ask them to leave a review. For example:
"Thank you for your recent purchase, [Customer Name]! Your feedback matters.Could you spare a moment to share your thoughts on your new [Product]? It'll only take 60 seconds!" [Link]
#2 After Visiting Your Store
Like messages sent to customers after a purchase, messages sent after customers visit your store can channel customer energy and excitement.
Questions you might ask in this SMS message include:
How was the store's layout?

Was the store clean and well-maintained?

What was the check-out experience like?

Did employees help you find what you were looking for?
These types of questions are usually reserved for internal purposes instead of a public review. They give you valuable insight into customer sentiment regarding your in-store experience.
"Thank you for your recent visit! To continue providing the best guest experience, we'd love to know your thoughts on our store's [layout/cleanliness/check-out experience/staff]. Please respond with A, B, C, or D."
A. Excellent
Good

Average

Needs Improvement
#3 After Connecting with Customer Service
Customers may connect with customer service for several reasons, so this template should focus on your customer's experience with your customer service team members.
Sample questions to ask include:
How was our customer service?

Did our customer service exceed your expectations?
"Thank you for connecting with us! Can you take a moment to let us know more about your recent exchange with [Representative Name]? Please respond Y to receive a brief, 1-minute survey."
Read Why Two-Way SMS Drives Value for Businesses and Consumers
#4
Website Feature Feedback
From subscription forms to interactive shopping widgets, business website features keep getting more advanced.
When first launching these features, it's helpful to receive customer feedback. After all, just because you find these features intuitive doesn't mean they're user-friendly.
"We noticed that you used our new [Feature]. We'd love to hear how it impacted your purchase!" [Link]
Additionally, you might use this template to alert customers to:
New website updates

User-accessibility features
#5 Welcoming New Customers
It's important not to drive new customers away by being overly aggressive when you request feedback. Always look for ways to welcome these customers while asking them for feedback.
"Thank you so much for choosing our business. We'd love to hear about your first experience! Please consider leaving a review at [Link]."
#6 Honoring Long-Time Customers
If new customers can provide honest first impressions, long-time customers can better speak to your company's values.
Furthermore, long-term customers are more likely to provide verified reviews, which are crucial to your strategy. Studies show that customers are 15% more likely to complete a purchase after reading verified reviews.
"You've been a customer for several years. As a result, your feedback is critical. Please leave us a review at [Link]."
#7 Review Response Messages
Responses to customer reviews can be just as vital as the initial reviews. That's because people spend, on average, 49% more money at businesses that respond to customer reviews.
Responding to online reviews can increase customer satisfaction in the following ways:
Customers feel like your business hears their voices

You can resolve issues in a friendly manner

Customers may be more inclined to leave future reviews
"Hi [Name], thank you for sharing your experience! We're so glad you love our [Product/Service]."
"Hi [Name], thank you for your candid feedback! We're sorry you were disappointed with our [Product/Service]. Please get in touch with us at [Email]; we'd like to set things right!"
#8 Engaging Social Media Mentions
Customers mentioning your business on social media may be more willing to leave a formal review. As a result, reaching out to these customers can increase customer feedback.
"Hi there! Thank you so much for mentioning us on [insert social media platform]! Would you be willing to leave a review at [Link]?"
Learn more: Improve Your Customer Connections With Auto Response Texts
#9 Targeted Feedback Questions
While positive reviews can help boost your revenue, specific reviews that address frequently asked questions can help you save time, energy and money.
Messages asking specific questions can be particularly helpful when launching a new product or feature. You can also ask specific questions to increase customer service and satisfaction.
"Thank you, [Name], for using our [Product]. We'd love to hear your thoughts! Please leave us a review at [Link]."
#10 Online Check-Out Process Feedback
Check-out process messages ask customers about their purchasing, shipping and receiving experience. Aside from collecting feedback, these messages show that your business proactively handles issues.
In addition to thanking customers for their purchase, these messages might ask customers:
How their purchase experience went

How shipping could be improved

If they received an order confirmation
Like the messages asking customers about their in-store experience, these questions should be reserved for internal purposes instead of a public review. This type of message might read:
"Thank you for your recent purchase! We're always working hard to ensure your online shopping experience is top-notch. Please respond with 1, 2, 3, or 4 to let us know your thoughts about our check-out process."


1 - It was easy!
2 - It was somewhat easy
3 - It was confusing
4 - I almost abandoned my purchase
#11 Post-Event/Campaign Feedback
Gather valuable insights after hosting events or running campaigns. These messages focus on understanding attendee experiences, gauging event effectiveness, and improving future events or campaigns.
"Thank you for participating in our recent [event/campaign]. Your feedback helps us improve! Kindly share your thoughts on the event's content, organization, and suggestions for future enhancements." [Link]
#12 Product Improvement Feedback
Ask customers to share their ideas on enhancing your products or services. These insights can be especially valuable for innovation and understanding customer needs.
"We value your input! If you could enhance one thing about our [product/service], what would it be? Share your thoughts and contribute to making our offerings even better." [Link]
#13 Feedback After a Delivery
After a successful delivery, seize the opportunity to gather insights about the delivery experience, packaging, and overall satisfaction. This feedback helps you refine your delivery process and ensure customers receive their orders as best as possible.
"Congratulations on receiving your order of [Product]! Your satisfaction matters to us. Could you take a moment to share your thoughts on the delivery process and the condition of your items? Your feedback helps us continually improve our services for you." [Link]
Send Timely Customer Feedback Request Messages with Texting Base
Customer feedback request messages can help your business thrive whenever you press send. That said, not every SMS platform is the same. For the best SMS solutions for businesses, you need Texting Base.
Whether replying to reviews or scheduling a new product feedback message, Texting Base can help you get the feedback you need to run your business efficiently.
Start sending effective feedback requests today with Texting Base, your partner for SMS solutions that drive business success. Sign up for a free trial now and elevate your customer engagement to new heights.