SMS for Customer Service: Best Practices + Free Templates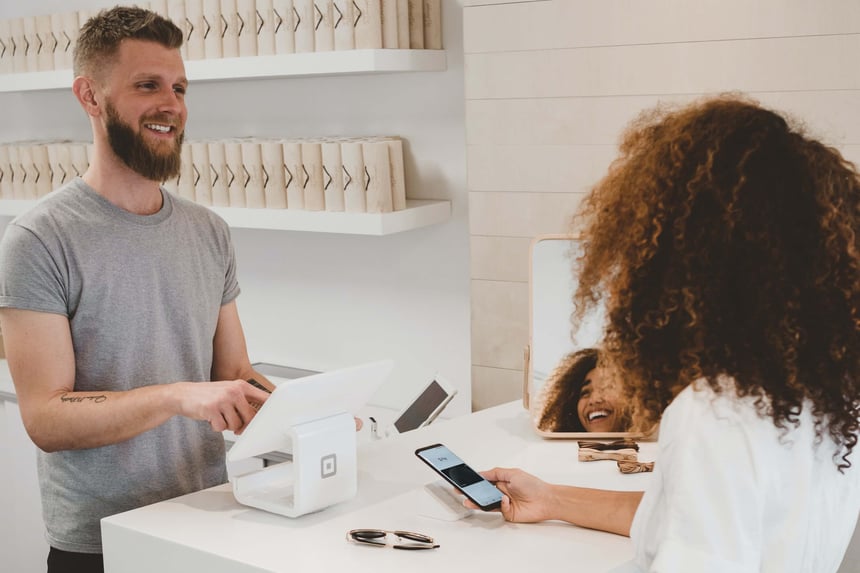 Whether you are new to SMS marketing or have been using it for a while, you can always learn about new ways to boost your overall marketing strategy. If you are only using SMS for advertising, you are missing out on the many ways it can help your business.
Today we will be going through the ways you can use SMS for customer service issues and give you some free templates to help get you started.
How Is SMS Used for Customer Service?
SMS can be used for customer service by offering support to a customer through text message. You can answer questions, give product explanations, resolve complaints and more, all via SMS. Customers can also make or change appointments, pay bills, and give valuable feedback on their experience.
What Are the Advantages of Using SMS?
More businesses are moving away from the more traditional marketing tools like phone and email, and they are embracing SMS to better communicate with their customers. SMS messages are much more likely to reach the customer because they have a 98% open rate, compared with just 20% for email. Also, 90% of leads say they would prefer to be texted about a sales opportunity rather than receiving a phone call.
While some may think that messaging customers on their personal devices directly is encroaching on their privacy, these days, 70% of customers say that SMS is a great way to get their attention, while 77% say that they have a positive perception of a company that uses SMS to communicate.
SMS Best Practices
Below we will expand on the best practices to follow when using SMS for customer service.
Choose the Optimal Messaging Platform
There are pros and cons to every type of messaging system; SMS only supports text but is cheaper, MMS allows for more media but is more expensive, OTT offers more features but requires that all users download a separate app to use it.
Any of these systems would support a text marketing strategy, but it depends on your company's needs and budget. You can learn more about each of these in our breakdown.
Follow TCPA Compliance Guidelines
The TCPA, or Telephone Consumer Protection Act, is a law that protects consumers from unsolicited calls, messages and spam texts. It was enacted in 1991 and prevents companies from calling, texting, and even faxing consumers without their explicit consent.
It's in your business's best interest to be TCPA compliant.
Use Templates
Using templates is a great way to streamline your messaging and make sure your voice is on brand and consistent. We have offered some free templates below to enhance your customer service responses, but if you are looking for more ways to jumpstart your text marketing strategy, check out these templates.
Integrate With Other Tools
While Texting Base has your business SMS messaging needs covered, integrating with other platforms such as Zapier can streamline your lead management, customer communication and data analytics into one easy-to-use system. It presents all of your back-end data in one place while giving your customers a seamless experience from start to finish.
11 SMS Templates for Customer Service
Below are some templates for some common customer service issues. These are templates to use in response to a question or issue that a customer has sent to you.
Answering Questions
Hi, thanks for reaching out! Our 20% off sale runs until the end of the week, and ends on [day of the week, calendar date]. Let us know if we can help with anything else, & happy shopping!
Greetings! Yes, our store is closed today for [holiday] but we will be open tomorrow with our usual hours. In the meantime, you can visit our website at [website link] to continue shopping!
Product Explanations
Great question! The [clothing item] comes in red, navy, gray & black and we offer sizes XS-2XL. Let us know if you have any other questions about our color and size offerings!
Yes, unfortunately [item] is out of stock at this time. We are working on getting it back ASAP. If you'd like to be notified when it returns, sign up for our mailing list! [link to sign up page].
Resolving Complaints
Hi [customer name], we apologize for the mix-up in sizes on your order. We are re-sending the correct size, and here is a coupon code for 10% off your next purchase! [coupon code]. Thanks for your patience!
Hi [customer name], we have issued you a refund of [dollar amount] to reflect the discount you should have received. Please let us know if we can help with anything else!
Appointment Confirmations or Changes
Good morning [customer name]! You have an appointment at [date, time] with [staff name]. If you wish to cancel, reply C to this text.
Thank you for contacting us! Your new appointment is scheduled for [date, time]. Reminder, there is a 24 hour cancellation policy. If you have any questions, call us at [phone number].
Payment Confirmations
Thank you for your payment of [dollar amount]. Your [Company name] subscription has been renewed for another [month/year/other time period].
Thank you for your [Company name] payment of [dollar amount]. To view your receipt, visit [insert link].
Customer Feedback
[Company name] thanks you for your purchase! It would really help us out if you could complete a quick customer survey. At the end of the survey you will receive a code for 10% off a future purchase! We thank you for your continued business!
Do More With Texting Base
SMS messaging for businesses can do so much more than convert leads and send marketing blasts. You can integrate SMS into your multimedia platform to provide top-notch customer service and ensure your customers have a seamless experience.
Texting Base has all the features you need in an SMS marketing platform to connect with your customers. Sign up for your free trial today!