10 Beauty and Nail Salon SMS Templates to Send to Clients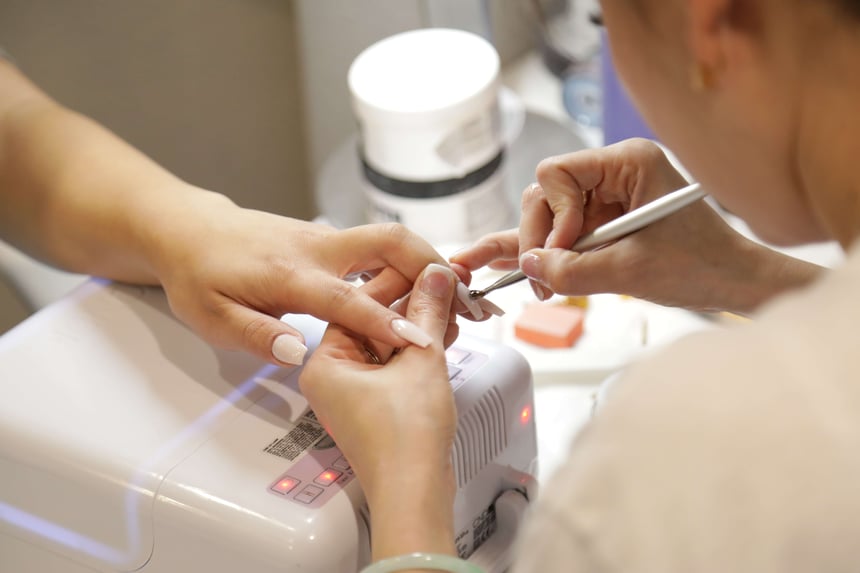 If you own or work in a salon, your day is probably jam-packed with back-to-back clients, and your focus is on getting their treatments done to their satisfaction while making sure that you don't run late for your next client.
Keeping in touch with your existing clients and generating new business takes time, time you might not have in your busy day. This is where beauty and nail salon SMS templates can help. An SMS marketing service like Texting Base can keep in touch with your clients for you while you are working.
The Benefits of Using SMS Templates for Your Salon
Auto-responses allow you to keep in touch with your clients without having to be attached to your phone or computer all day. They are perfect for things like managing appointments, answering client questions and encouraging repeat visits.
Manage Appointment Scheduling and Reminders
Reminding your clients of their appointments ahead of time can help you reduce the number of missed and late appointments. These reminders keep your day running smoothly and your schedule running on time.
Answer Client Questions
If you're tired of answering the same questions repeatedly, you can set up templates for your most commonly asked questions and save yourself time while giving your clients the answers they need.
Get more information by checking out our blog on SMS for Customer Service: Best Practices + Free Templates.
Encourage Repeat Visits
When customers get a reminder that it's time to fill their nails or change out their gel polish, they're more likely to return for that service and also more likely to purchase another service while they're at your salon.
10 Nail and Beauty Salon Messages
Below are some customizable templates that you can use in any nail or beauty business.
1. Welcome Message Template
Thank you for contacting me! I would love to give you a great mani/pedi! Which day and time would you like to book?
Thank you for contacting [Salon Name]! We would love to help your hair look its best! Let us know which treatments you are interested in, and we can get started!
2. Information Request Template
We appreciate your interest in [Salon Name]! Here is a list of the services we offer! [URL]. Please call [Phone Number] for any further questions!
3. Appointment Confirmation Template
Your appointment with [Technician Name] has been confirmed for [Date, Time]. We are looking forward to your visit!
Need more templates? Check out these 18 Appointment Confirmation Templates You Can Use Today!
4. Appointment Reminder Template
This is a reminder for your appointment with [Technician Name] at [Date, Time]. See you soon!
5. Appointment Reschedule or Cancellation Template
Your appointment with [Technician Name] has been rescheduled for [Date, Time]. We are looking forward to serving you!
6. "Time for a Touchup" Template
We noticed that it's been a minute since your last gel manicure! We can refresh it for you at your convenience. Schedule an appointment by calling [Phone Number].
We know you want to keep your hair looking its best! Brazilian blowouts typically last about 2-3 months, so you should book another treatment soon to protect your hair! Call [Phone Number] to schedule an appointment!
7. Upcoming Event Template
Happy Mother's Day! Celebrate the mom in your life with 10% off any treatment at [Salon Name] this weekend only! Call [Phone Number] to make an appointment today!
8. Promote Social Media Accounts
It's Mani Monday! Show off your manicure and tag us on social media @[Account Handle]! We will randomly select one winner to receive $10 off their next service!
9. Announce Offers and Promos
It's the 1st day of summer, time for sandal season! For the next week, we are offering 10% off all pedicures! Call [Phone Number] and book an appointment today!
10. Referral/Review Template
If you enjoyed your service with us today, make sure to tell your friends! Book an appointment with a friend, and you will both receive 10% off your next service at [Salon Name]!
If you are loving your mani or pedi, tell us about it! Leave a review on our Yelp page and show it to us on your next visit to get $5 off one of our services!
Send Nail Salon SMS with Texting Base
A text marketing service like Texting Base can help grow any beauty business. You can add it to your existing social media marketing strategy and provide a seamless experience for your clients. Find out how much an SMS marketing platform can help your business by signing up for a free trial of Texting Base today!