10 Killer Templates for Retail Text Message Marketing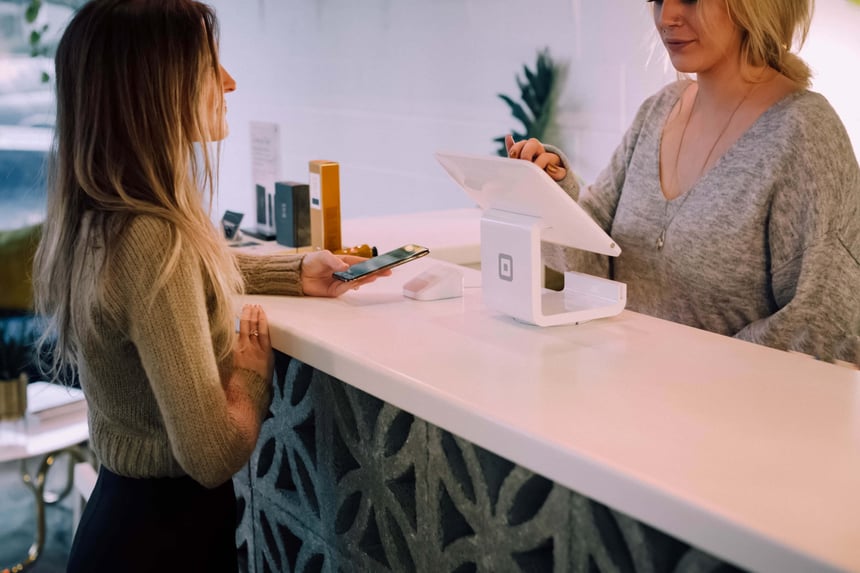 Shopping online might be convenient at times, but nothing beats walking into a store and browsing their selection while getting product recommendations from knowledgeable staff. If your business is struggling to get people in the door, an SMS marketing campaign can help.
Today's blog will cover the benefits of SMS marketing for retail and offer 10 customizable templates you can use for your business.
How SMS Can Benefit Your Brick-and-Mortar Business
Any retail store can benefit from text marketing. An SMS platform like Texting Base can help increase foot traffic, introduce your store to new customers, and costs less than traditional marketing solutions.
High-open rates
Text messages have a much higher open rate than email, so it is more likely to be seen by your customers rather than ending up in someone's spam folder. Additionally, text messages have a click-through rate of about 19% when a link is included in the message, compared to only 4% for email.
Increase Foot Traffic
If your store is not located in a high-traffic area, some customers might need help finding you. SMS marketing can help introduce your store to new customers who might not have found out about you otherwise. It can also entice current and former customers to come back and visit your store to see what's new.
Lower Advertising Costs
Bulk SMS platforms like Texting Base offer discounted rates for mass texting, which is cheaper than buying a TV commercial or a spot on the radio and will reach more of your target audience. You can focus your text blasts on people who have purchased from you, current customers, and new customers.
Increase Offer Redemption
50% of customers purchase after receiving an SMS text, coupon, or discount code. Your store can increase sales just by implementing an SMS marketing strategy. SMS has an advantage because it pops up right on the customer's messaging app, making it more difficult to ignore than an email.
Improve Brand Awareness
Texting customers is more personal than just sending advertisements. It allows for two-way communication that personifies your brand and clues customers into your brand values. Connecting with customers has never been easier!
Strengthen Customer Engagement
Text is a growing mode of customer service and engagement. 64% of customers think that companies should text them more often. They are used to communicating through text and view companies more positively for making that accessible.
Retail Text Message Marketing Templates
Below are some customizable templates you can apply to your retail business.
Templates for Product Launches
Introduce new collections or seasonal product lines.
Keep your eyes peeled for [Company Name's] new collection that's dropping soon! Sign up for our email blast to be the first to see our new products!
[Company Name] is proud to announce our new line of [Product]! We are so excited and can't wait for you to see it!
Coupon and Promo Templates
Let your customers know about sales you are having and entice them to purchase by sending them promo codes for a discount or exclusive offers for being on your marketing list.
[Company Name] is having a 20% off sale for the next [Period of Time]! Hurry so you don't miss out on this great deal!
Get $10 off your next purchase at [Store Name] with the code ABC123. Valid for a limited time only!
Loyalty Program Templates
A great way to encourage customers to shop at your store is to give them an incentive. A loyalty program lets customers collect points by shopping at your store to earn rewards at your business.
[Store Name] is introducing a loyalty program! Every purchase earns you points that you can redeem for perks like 10% off a purchase or a free item! Sign up here [URL].
Get $10 off your next purchase of $50 or more when you sign up for [Store Name] rewards club! It's free to join; you don't want to miss out!
Business Announcements
SMS is a great way to let your customers know what's happening at your store, whether you are collaborating with another brand or changing locations or hours.
[Store Name] is proud to announce our new line of [Product] in collaboration with [Company Name]! We are so excited for you to see it! Shop the line here [URL].
Heads up! Our store hours are changing for the upcoming holiday! We want to give our hard-working employees a chance to enjoy some extra time off. Our [holiday] hours will be 8 AM to 1 PM, so show up early to get your last-minute shopping in!
Review Requests
Customer feedback is valuable for any business. Ask your customers to fill out a survey so you can improve their experience next time.
Thank you for shopping at [Store Name]! We would love to hear about your experience! Click the link to fill out our satisfaction survey. [URL]
If you enjoyed visiting our store, please consider leaving us a review on Yelp! It helps us improve our customer experience and helps others find us!
Start Up SMS Marketing for Retail with Texting Base
Running a retail business can be fast-paced and stressful, but your marketing doesn't have to be. SMS marketing is a cost-effective, easy way to get the word out about your store and boost foot traffic to your business. You can set up a few automated templates, and Texting Base will do the rest for you.
Find out just how much an SMS marketing campaign can do for your retail business by starting your free trial of Texting Base today!