SMS Marketing for Local Businesses: How to Get More Foot Traffic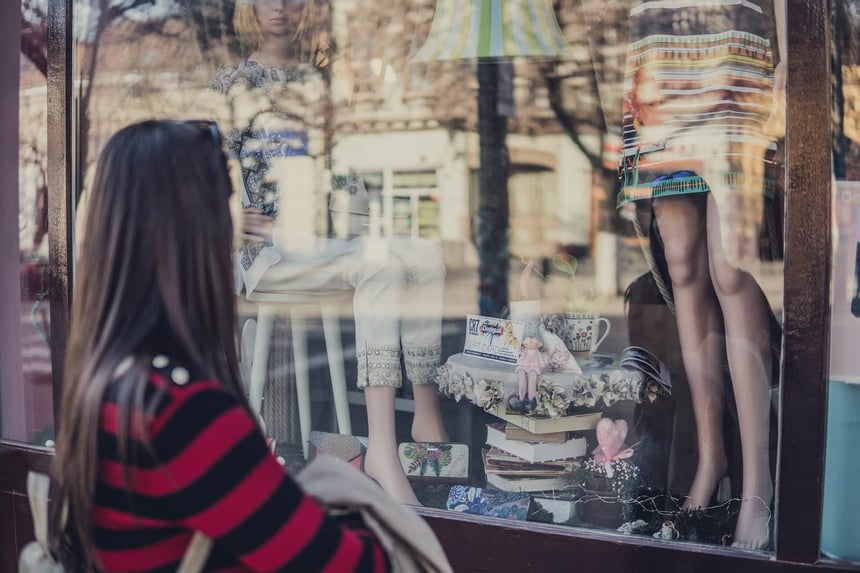 Wondering how to get more foot traffic in your store? Consider the power of SMS marketing.
SMS marketing is an effective means of connecting with online customers and a powerful tool for local businesses to encourage in-store purchases, promote events, drive social media engagement and more.
In this guide, we'll get into the nitty-gritty of how to increase foot traffic to your store with SMS marketing.
We'll explore some of the benefits of text messaging for local businesses, explore four ideas brands can use to attract visitors (complete with message templates) and briefly cover some best practices for SMS outreach.
Table of Contents
4 Ways to Use SMS to Increase Foot Traffic (+ Examples)
Best Practices for Local Business Marketing
Benefits of SMS Marketing
Why is SMS marketing so effective for local brick-and-mortar businesses? Let's dive into just a few of the benefits of SMS marketing for neighborhood brands.
It's Personalized
Since SMS messages are customizable, they're effortless to personalize. Using today's powerful text message marketing platforms, brands can personalize their SMS content with:
Customers' names

Information about past purchases

Personalized product recommendations

Birthday and anniversary celebrations

Inventory updates for relevant products
Personalization in text message marketing can have powerful results in today's consumer landscape:
90% of US consumers have a positive attitude toward marketing personalization.

80% of shoppers are more likely to choose brands that provide personalized experiences

83% of customers are open to sharing personal data (like their names, contact information and purchase histories) to facilitate more personalized brand experiences

72% of consumers say they

only

interact with personalized marketing content.
Consumers (including patrons of local businesses) care more about personalization than ever before, and SMS marketing is an excellent tool for creating content specifically tailored to your customers' preferences.
SMS Messages Feature High Open Rates
Statistically speaking, text message open rates are significantly higher than their email marketing counterparts:
Text message open rates can reach 98% (and response rates can be as high as 45%).

Emails feature only about a 20% open rate (and a 6% response rate).
Why are customers so likely to read text message content?
An air of urgency

– Text messages can be perceived as more urgent than emails.
They're already texting

–

88% of people

primarily use their phones for SMS functions.

They're initiating

– According to TechJury, 75% of millennials attempt to contact companies via text before using another channel.
When businesses send SMS messages for marketing or customer service purposes, they can pretty much count on those messages getting seen. Although it's not guaranteed that every recipient will open a marketing text, statistics suggest that the likelihood is high.
It's Versatile
Let's explore a point made above (that business texts can serve multiple purposes outside of marketing) in more detail.
While businesses can use SMS in their marketing efforts, they can also use it to:
Request Google reviews or other

customer feedback

Provide order updates (like altering clients when their order is ready for pickup)

Offer customer support via:

Automated self-service functions

Direct chat with a customer service representative

Prewritten FAQ scripts

Request and process customer payments

Send promo codes and sale information
Text messaging is also scalable. Whether businesses start with just one functionality or test the effectiveness of SMS on one customer segment, it's easy to integrate additional user groups or functions into your texting strategy over time.
4 Ideas for Using SMS to Increase Foot Traffic to Your Store
Texting can be an effective way to personalize marketing content, reliably reach customers and simplify numerous customer relations functions. Let's explore how to increase foot traffic to your store by using SMS to reach in-person customers.
#1 Share an In-Store Promotion
If you're hosting a special event or an in-store promotion, SMS is an excellent vehicle for spreading the word to customers. Consider sharing:
Discount codes or phrases to use during checkout

Deal details (i.e., "Take 10% off on September 23rd.")

Which items or services are on sale

Updates about the promotion or event
Here are some templates your local brick-and-mortar store can use when texting about an in-store promotional event:
"Hi [Customer Name]! [Brand Name] is hosting a sales event on [Date]: Use the phrase "[Phrase]" at checkout to take 10% off your purchase of $[X] or more. Can't wait to see you there!"

"[Holiday Name] is almost here! [Brand Name] is celebrating with a special event. Shop in-store on [Date] for limited-time discounts and enjoy complimentary refreshments. We're excited to celebrate with you!"
#2 Advertise a Local or Store Event
Tabling at an upcoming farmer's market or community event? Hosting a holiday event, like a Memorial Day cookout? Inviting a local band to perform at your store? You can use SMS to promote your event to potential attendees, sell tickets and provide reminders in the days prior.
SMS can be a particularly effective way to sell tickets or request RSVPs. The following templates can help you promote your upcoming local event:
"[Customer Name], get ready for the entertainment experience of a lifetime. [Band/Performer Name] is putting on a special performance at [Location] on [Date], and we hope to see you there! Purchase tickets at pre-sale prices here: [Link]"

"Hello [Customer Name]! If you're looking for fresh produce, locally hand-crafted goods or a snack from your favorite local eatery, head to the Farmer's Market at [Location] this [Day] at [Time]. [Brand Name] will be there offering [Product/Service]. Come out and support local businesses this [Day]!"
#3 Send Inventory Updates
Businesses can also use SMS to update customers when their favorite items are back in stock, running low or only available for a limited time.
For instance, if your customers can sign up for inventory updates on their favorite products, you could use automated texts to alert them when their items are back in stock. Brands can also send updates that:
Alert all customers when best-selling items are restocked

Share low-inventory warnings for products customers have purchased before

Promote upcoming releases of limited-edition items
Here's one template brands could use to alert customers to a restock:
"Hi [Customer Name]! Great news: [Brand Name] just restocked [Product Name]. But [they're/it's] already selling fast. Visit us in-store to get yours before they're gone!"
#4 Run a Sweepstakes
Customer giveaways and contests are an excellent for driving traffic to your store, leverage social media tools for marketing and increase customer engagement (both online and in-person).
Businesses could use SMS to promote:
In-person giveaways like raffles and random drawings

Social media sweepstakes where customers "enter" by using a hashtag or liking a post

Competitions like costume contests, talent shows or trivia events
How might a brand let customers know about an upcoming giveaway via SMS? Here's a template:
"Hi [Customer Name]! This week only, [Brand Name] is running a raffle for a free [Product/Service]. Every dollar spent in-store between [Date] and [Date] will earn you one raffle ticket. You can also enter by donating to our [Item] drive! Stop by our store to enter the drawing before [Date]!"
Best Practices for Local Business SMS Marketing
What else should local business owners keep in mind as they build SMS marketing strategies to increase foot traffic?
Emphasize in-store opportunities

– While SMS can support your general brand awareness efforts, highlight information that will primarily

motivate subscribers

to visit your store's physical location.

Leverage community engagement

– Neighborhood brands are critical players in local economies. Infuse your SMS content with local tidbits (like alerts about upcoming community events) to connect with consumers in your area.

Stay humble

– Incorporating gratitude into your messaging (

"Thanks for supporting a local business!"

) could further enhance the personalization of your SMS campaigns.
Overall, local business owners looking to leverage SMS should think about (and create) the types of messages that would motivate them to shop at an in-person business or attend an event in their communities.
Get More Foot Traffic with SMS Marketing from Texting Base
If you're looking to reach more potential customers, SMS marketing can be a powerful tool in your arsenal. With the ability to reach customers directly on their mobile devices, SMS marketing can effectively drive foot traffic and increase in-store sales.
Text messages can be highly personalized (an especially critical factor for local businesses), they're statistically likely to be read, and they can accomplish various customer relations tasks outside of marketing.
Today's brands looking for a powerful business texting platform should partner with Texting Base for their SMS marketing needs. Thousands of industry-leading organizations use Texting Base to design highly customized campaigns, share important updates with their client lists and build better customer relationships.
The best part? You can start for free. Learn more about Texting Base's powerful platform and start your text message marketing journey.
Sources:
Forbes. 50 Stats Showing the Power of Personalization. https://www.forbes.com/sites/blakemorgan/2020/02/18/50-stats-showing-the-power-of-personalization/?sh=1af1245e2a94
Gartner Digital Markets. The Future of Sales Follow-Ups: Text Messages. https://www.gartner.com/en/digital-markets/insights/the-future-of-sales-follow-ups-text-messages
TechJury. 35+ Must-Know SMS Marketing Statistics in 2023. https://techjury.net/blog/sms-marketing-statistics/#gref