14 Clever Ways to Use SMS Marketing for eCommerce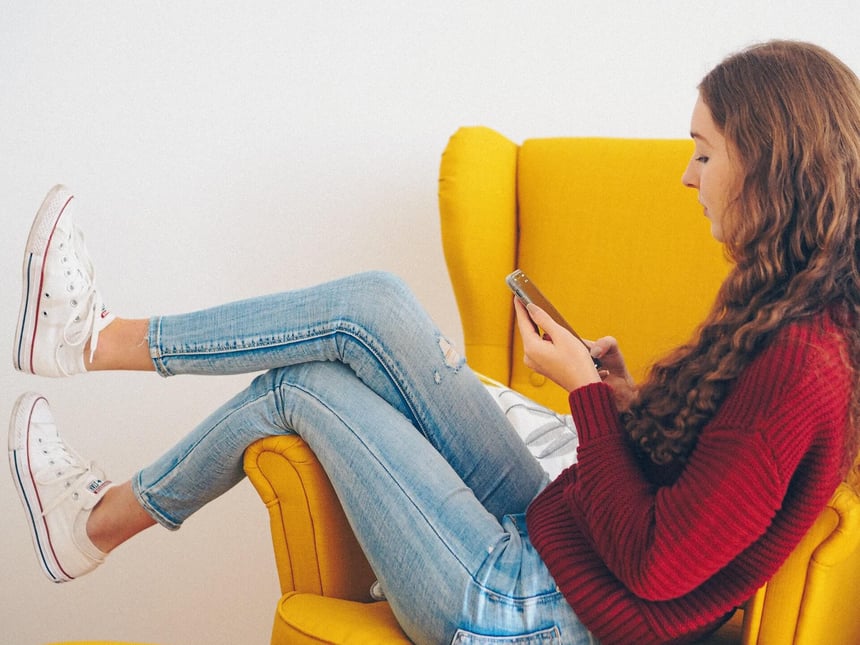 SMS marketing for eCommerce is becoming increasingly popular for various reasons: Namely because text messages have a staggering 98% open rate and they're simple to automate.
If you're new to the world of SMS for eCommerce, you might not have a clear picture of how you can use business texting to recruit new customers (at the top and bottom of the sales funnel), connect after you make a sale, re-engage with past clients or offer customer support. This guide is here to help.
We're breaking down 14 simple ways to incorporate SMS into your marketing strategy. But remember that you don't have to introduce all of the tactics below simultaneously: SMS marketing is highly scalable, so you can start with just one of these ideas and expand at your own pace.
Table of Contents
Top-of-the-Funnel SMS Marketing Strategies
Let's start with strategies for marketing at the top of the sales funnel. It's a crucial stage of the customer journey when prospects become aware of your brand and first interact with your content (e.g., your product listings, newsletter or social media posts).
#1 Holiday and Seasonal Greetings
One excellent way to recruit new customers is to send them a personalized holiday greeting or a seasonal message. You can send personalized texts (with or without discount codes) on various holidays, including:
Customers' important dates, like their birthdays and anniversaries

Holidays known for gift-giving

Seasonal equinoxes and solstices

Religious holidays like the first days of Passover, Diwali or Ramadan
Even if customers don't make a purchase after a holiday greeting, celebratory texts still keep your brand at the front of their minds.
#2 New Product Launches:
If a new product hits your digital shelves, you can inform customers (current and future) by sending an SMS message. Even if a recipient isn't interested in your new product, they'll instantly remember your brand (and any products they are interested in).
Here's a template you can customize:
"Exciting news from [Brand Name], [Customer Name]! [Item Name] just hit our inventory, and you're going to love it. Inventory is limited—grab one before they're gone!"
For more, read SMS Templates to Kickstart Your Text Marketing Strategy.
#3 Limited Time Deals, Promotions and Sales
Sometimes, a discount code is the only thing keeping a top-of-the-funnel prospect from converting. Use SMS to showcase:
Deals

– Send messages about specific products available at a lower price.
Promotions

– Showcase promotional or seasonal items available for a limited time.
Sales and discounts

– Offer customers codes to cut a percentage off their purchase.
Bottom-of-the-Funnel SMS Pitches
Customers who have shown a high intent to buy (e.g., browsing a specific product or adding an item to their cart) are on the edge of conversion. One of the texts below could be the last push they need to make a purchase.
#4 Abandoned Cart/Browse Reminders
If a potential customer has opened a product page or added an item to their cart, use SMS to remind them that their product is still available. There are various reasons why a customer might abandon a search or their cart:
They're researching similar products from your competitors

They're waiting for the product to drop in price

They simply forgot about the item or were sidetracked

They're hoping for a discount code
The perfect SMS message is sympathetic to all these potential reasons but still motivates customers to resume their purchase journey. The following template uses scarcity messaging as a motivator:
"You added [Item Name] to your cart, [Customer Name]. Don't worry, we saved your progress! Complete your purchase at the following link: [Link]."
#5 Personalized Product Recommendations
If someone browsed your eCommerce site or abandoned their cart, you have an excellent opportunity to recommend (and upsell) personalized products:
"Interested in [Item Name 1], [Customer Name]? [Brand Name] fans who bought [Item Name 1] also loved [Item Name 2]. Click the link to add [Item Name 2] to your cart and checkout! [Link]."
#6 Time-Sensitive Discounts
Offering a time-sensitive discount code can quickly convert a tire-kicker into a customer (especially if the message is well-timed). But there are a few critical pieces to includes in every time-sensitive discount text:
The item name in their cart (if applicable)

The discount code and its value

The redemption deadline
For example:
"Discount alert! [Customer Name], if you checkout before midnight, you can take 10% off [item Name] with code [CODE]. Redeem this offer before it's gone!"
#7 Back-in-Stock Notifications
Back-in-stock notifications provide easy sales wins, as your potential customer might have been one click away from a purchase before limited inventory prevented their order. Alternatively, they might convince a potential customer a specific product is:
Scarce

– A back-in-stock message can make the product seem scarce—it could run out again, so customers need to purchase ASAP.

Popular

– If an item was out of stock recently, customers might think it's popular and, perhaps, worth trying out.

Exclusive

– If an item is rarely available, a customer might get the impression that very few people have it.
If a high-intent buyer added an out-of-stock item to their cart, alerting them when it's available again could convince them to complete their purchase.
#8 Loyalty Programs and Rewards
Your eCommerce brand can market its loyalty program at any point in the sales funnel. But leveraging it in combination with SMS could tip the scales for customers approaching the conversion stage at the bottom. Try a template like:
"Have you heard about [Brand Name]'s loyalty program, [Customer Name]? If you sign up now, you'll earn double points on any purchases made in the next seven days—points you can redeem for future discounts! Sign up today: [Link]."
For more, read SMS Templates to Promote Your Loyalty Program.
Post-Sale SMS Tactics
After a potential customer converts (i.e., makes a purchase), your brand can use SMS to update them about their order, cross-sell additional products or seek valuable feedback.
#9 Order Updates
Using automated SMS for order confirmations and shipping updates can help keep your brand top-of-mind. Consider sending:
Confirmation messages

–

"Thanks for your order, [Customer Name]! Your confirmation number is [Number]. [Brand Name] appreciates your business!"

Shipping notifications

–

"[Customer Name], your [Brand Name] order just shipped! Track your item here: [Link]."

Delivery alerts

–

"[Item Name] is out for delivery! Your item should arrive at [Address] by [Time]. Thanks for ordering from [Brand Name]!
For more templates, read Appointment Confirmation Templates You Can Use Today.
#10 Cross-Selling
The time between a customer's order and their item delivery provides an excellent cross-selling opportunity: a chance to sell an additional item after a client makes a purchase. Here's an example of a cross-selling SMS message:
"Customers who loved [Purchased Item Name] also loved [Recommended Item Name]. If you add [Recommended Item Name] to your order, you'll get 20% off at checkout. Use this link to add it to your cart: [Link]."
#11 Customer Feedback and Surveys
Text messaging is an excellent medium for requesting customer reviews. Consider automating review requests a few days after product delivery.
Reviews should be a critical consideration in your digital marketing strategy. They can:
Convert potential customers

– Good reviews

carry a lot of weight

with customers who trust customer feedback more than ever before.

Impact your search engine optimization (SEO)

– Google reviews can help you

rank higher

in organic searches, drawing more customers to your eCommerce site.

Improve brand trust

–

Almost half

of consumers trust online reviews as much as they trust a personal recommendation.
Check out Customer Service: Best Practices + Free Templates for more!
Re-Engagement SMS Ideas
If you're looking for ways to turn former customers into repeat customers, SMS is the right tool for the job.
#12 Rewards Points Reminders
One way to re-engage past clients is to remind them about their rewards points:
"Hi [Customer Name]! You currently have [X] [Brand Name] rewards points. Redeem them for a discount on your next purchase!"
"You have [X] points, [Customer Name]! Remember, you get [$X] off per [X] points—redeem your rewards today! [Link]"
If your loyalty program places an expiration date on reward points, be sure to include any upcoming deadlines for a little extra motivation.
#13 Referral Program Information
Like rewards points, messages about your referral program could convince past customers (and their friends) to make a purchase:
"Hey [Customer Name]! Don't forget about [Brand Name]'s referral program: Get 10% off your next purchase when you refer a friend to our newsletter. Here's your personalized referral link: [Link]."
"Thanks for referring [Referral Name], [Customer Name]! You scored 10% off your next purchase with code [CODE]. Thanks for spreading the word about [Brand Name]!"
Customer Service SMS Functions
In addition to SMS marketing for eCommerce, you can also use text messaging as a customer service tool. After all, excellent client support can help you build brand loyalty. While there are various ways to leverage SMS for customer service, let's explore one of the most common tactics.
#14 Customer Support Chat
Chat support is essential for today's eCommerce brands: 75% of consumers prefer some form of live chat (e.g., web chat or SMS) over other channels (e.g., phone or email) when it comes to contacting brands.
You can optimize your live chat functions by leveraging SMS. Why?
Customers are already texting

– Instead of only offering live chat through browsers or your app, why not migrate it to the platform your customers are most familiar with and keep it right in their palm?

It's an automation opportunity

– Leverage automated, two-way messaging to resolve customers' issues before connecting them with a live agent.

You can limit hold frustrations

– Holds can be frustrating for customer service callers. Instead of listening to elevator music, your customers can multitask while they await a text reply.
Partner with Texting Base for eCommerce SMS Marketing
These tips for SMS for eCommerce represent just the tip of the iceberg. There are nearly countless ways that eCommerce brands can leverage business texting for marketing, customer service and other critical functions.
If you're ready to explore the possibilities of chat commerce, partner with Texting Base. Our all-in-one texting platform powers SMS marketing for thousands of industry-leading brands. The best part? You can get started for free.
Simple, sleek and scalable, our platform can help you reach your customers where they already are: in their texting apps.
Sources:
TechJury. 35+ Must-Know SMS Marketing Statistics in 2023. https://techjury.net/blog/sms-marketing-statistics/#gref
Tech Target. Definition: Sales Funnel. https://www.techtarget.com/searchcustomerexperience/definition/sales-funnel
Investopedia. What Is Cross-Selling?. https://www.investopedia.com/terms/c/cross-sell.asp
ReviewTrackers. Online Review Statistics and Trends: A 2022 Report by ReviewTrackers. https://www.reviewtrackers.com/reports/online-reviews-survey/
Search Engine Journal. How Google Reviews Impact Map Pack & Organic Search Rankings. https://www.searchenginejournal.com/google-reviews-impact-rankings/429783/#close
Oberlo. 10 Online Review Statistics. https://www.oberlo.com/blog/online-review-statistics
TechJury. Live Chat Statistics Your Business Needs in 2023. https://techjury.net/blog/live-chat-statistics/#gref